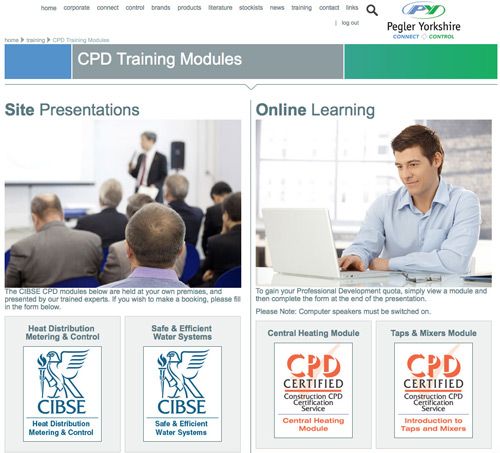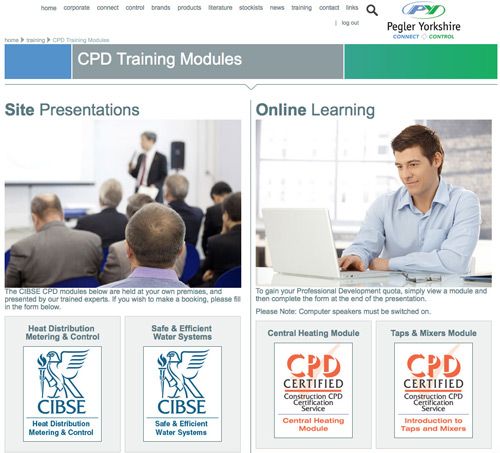 Plumbing and heating manufacturer, Pegler Yorkshire, has launched a portfolio of Continuous Personal Development (CPD) modules, which are suitable for industry professionals across a variety of sectors.
Phill Jackson, marketing and business development director, said: "Ongoing training is a very important part of career development. With new products entering the market and changes to legislation affecting the construction and plumbing industries, we feel our online training portal is a hugely effective way of promoting ongoing learning. Initially, we have selected topics which will benefit a wide cross section of people from installers and contractors to specifiers and consultants, and more modules will be coming very soon as we continue to build on our training programmes."
The online training modules, which can be accessed via 'My PY' on the company's new website, cover general topics including: central heating, taps and mixers, metal push-fit and commissioning. Additionally, Pegler Yorkshire is continuing to develop a portfolio of CPD site seminars which currently include: the importance of anti-microbial taps in infection control for health care sectors; safety and efficiency of water systems in line with Part G of Building Regulations and the Code for Sustainable Homes; and, also, a module detailing how heat interface units (HIU) support heat distribution networks to deliver environmental and cost saving efficiencies.
The heat distribution, metering and control training module, for example, focuses on system types, applications, influences and climate solutions particularly focusing on HIUs and the benefits they can bring. It, as well as the other modules, includes a host of industry related statistics and facts to deliver enhanced levels of knowledge.
Phill added: "The heat distribution module is particularly relevant as 2015 sees the start of a Local Council study into the benefits that a HIU can bring to heat networks. Furthermore, this particular CPD module has gained accreditation from the Chartered Institute of Building Services Engineers for its industry relevance, and will be used by it as a benchmark for other manufacturers and training providers so that learning for all in the industry can be achieved."
More CPD training modules will continue to be uploaded onto the Pegler Yorkshire website throughout the year.
To access the modules, individuals can simply create a 'My PY' account in the links section at: www.pegleryorkshire.co.uk and companies can contact the Pegler Yorkshire team direct to book a presentation or fill in the online 'Book a Seminar' form.