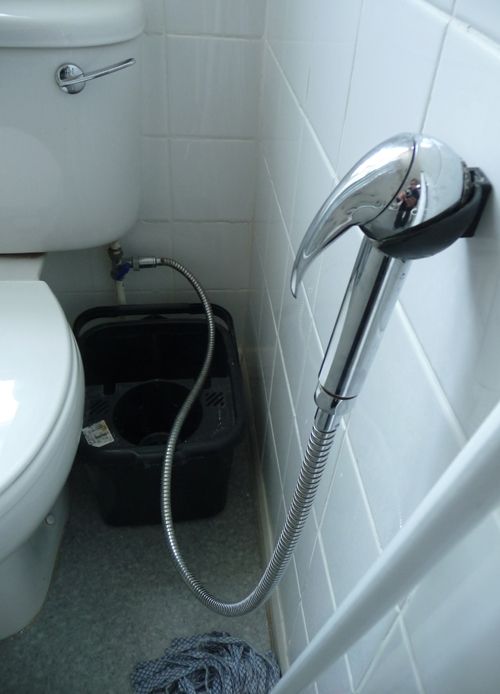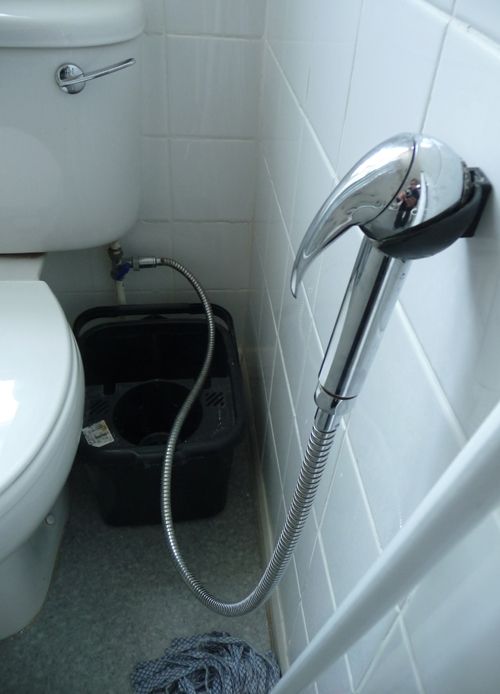 An increasing number of "douches" are being installed across the UK. Many of these devices can reach below the spill over level of WC pans, thus posing a fluid category five contamination risk.
Many of these devices are not being installed with adequate backflow prevention in place.
The image shows such an installation. The WC is fed directly from the mains, and a tee has been cut in to allow a shower hose to be installed for washing purposes. Although the shower may have a self closing mechanism, there is no backflow prevention device installed. If the shower head was left submerged in the WC pan, water could be siphoned back into the system. Not a nice thought when you're getting a drink of water from the kitchen tap downstairs!
Installations of this type of washing facility would need to be fed independently in order to offer the correct level of backflow prevention, fluid category 5. This needs to be taken into consideration when designing and installing washing facilities.
The practicalities of installing these devices to comply with the requirements of the water regulations are very difficult. An independent supply pipe from a gravity fed cistern would be the easiest way to provide adequate backflow prevention, by means of a type AUK1 air gap arrangement. This could then be used to feed an independent instantaneous water heater if there was also a requirement for hot water.
Another alternative may be to use a type DC device. Once again the design practicalities of installing this type of device would be difficult. The handset on the hose may cause a restriction to the flow at higher pressures, causing water to leak out of the DC device. This may mean that flow restrictors or pressure reducing valves may also be required.
If water at low pressure is not adequate, then the installation of a `booster set` may be a better option. This would need to be a dedicated boosted water supply just for the Douche valve. There would need to be an adequate air gap on the cistern feeding the booster pump. Again if hot water was also required, then an independent hot water heater could be fed from the boosted water supply.