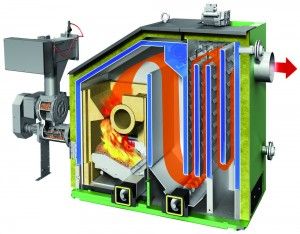 Natural energy provider, Euroheat, has added bespoke biomass maintenance courses to its training portfolio designed to keep biomass installers up-to-speed with all their servicing and maintenance requirements on its range of domestic and commercial biomass boilers.
Now that the biomass sector in the UK is a maturing one – the commercial arm in particular – it is vital that biomass professionals stay ahead of the game and ensure that equipment is fully operational and efficient throughout its lifespan; to both ensure customer satisfaction and maintain the high eco-credentials of biomass technology.
Simon Holden, co-founder of Euroheat, said: "Our new bespoke biomass maintenance courses are aimed at keeping our army of biomass installers armed with the appropriate knowledge throughout a boiler's life, so that all requirements specific to that product are met. We want to see our equipment is kept working at optimum efficiency at all times, minimising breakdowns and increasing the longevity of each biomass heating system."
Whatever the product or fuel type, Euroheat can provide up-to-date training and information on all areas of maintenance; essential for ensuring a biomass system works at its optimum annualised efficiency. Through proper servicing and maintenance, performance is enhanced, the need for spare parts is reduced and breakdown is prevented, further enhancing the cost saving benefits of this technology.
The courses are held at Euroheat's state-of-the-art training centre in Bishops Frome, alongside its range of Microgeneration Certification Scheme and HETAS training programmes.