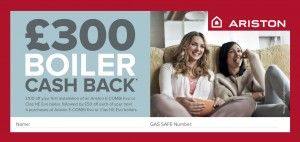 Following Ariston's training incentive scheme last year, the company has extended its cashback offering for heating engineers who attend one its courses during 2015. Every installer undertaking a free high efficiency boiler course at one of Ariston's UK Centres of Excellence will now receive £300 cashback upon attendance – an increase of £50 from the year before.
The £300 cashback is divided into five instalments, with one cheque of £100 awarded to installers for the first Ariston product fitted, followed by four subsequent instalments of £50 for the next four items. Products eligible for the cashback promotion include Ariston's range of high efficiency boilers. The offer runs until December 31, 2015.
Ariston's Centres of Excellence are located in Glasgow, Edinburgh, Barnsley, Manchester, Wallsend Birmingham, Leicester, Milton Keynes, Basildon, Portsmouth, Basingstoke, Plymouth, and Cardiff.
Each free high efficiency gas boiler training course involves theory sessions and hands-on, practical classroom experience – including expert tuition on understanding the operational parameters, such as how to range rate the boiler and install a multi-zone system. As a result, engineers who attend are able to obtain valuable experience with live gas and water connections, as well as become familiar with the latest products and technology – plus understand the relevant legislation they fall under.
Gary Millar, head of technical and training at Ariston, said: "Ariston's courses provide an essential overview of the brand and products, as well as detailed information about specification, installation, servicing, parts replacement, maintenance and identifying potential faults. Not only does this knowledge provide heating engineers with the necessary skills to improve their professional standards, there are also significant financial savings to be made thanks to the cashback incentives on offer.
"Installing and setting up an Ariston boiler is not complicated once you've been shown how, but it can offer the customer significant savings on their energy bills."