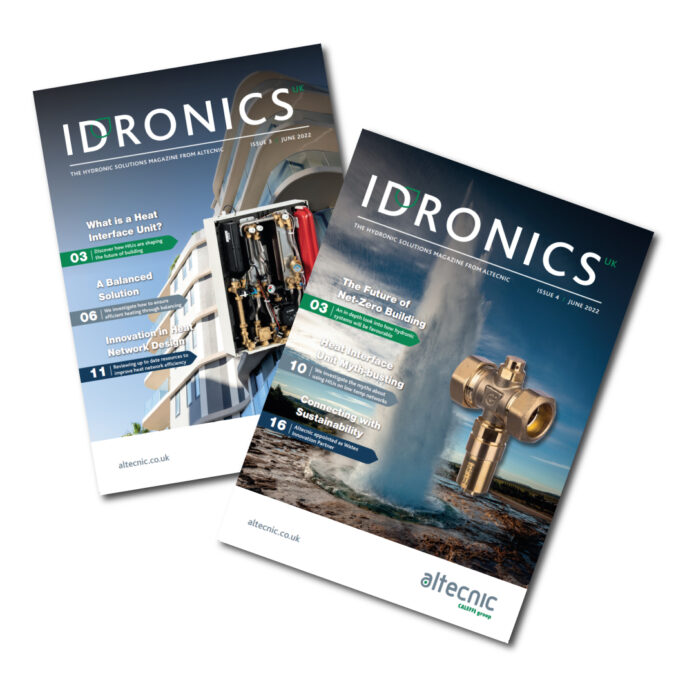 Altecnic, supplier of hydronic solutions and part of the Caleffi Group, has released two new issues of 'Idronics UK', a technical publication for members of the plumbing and heating industry.
With an aim to provide trusted technical knowledge, the two new editions cover hot topics in efficient, sustainable heating for the future including heat pumps and heat networks.
In Issue 3, the 'Multi-Occupancy Issue', readers can explore topics such as:
What is Heat Interface Unit (HIU)?
Precise & Efficient System Balancing
Case Study: HIU Installation Leads to Free Energy for Tenants
The New Heat Network Design Guide from Altecnic
Through detailing the basics of modern Heat Interface Units (HIUs), to investigating how to ensure whole system balancing, and providing advice on heat network design, issue three covers all efficient heating methods for multiple occupancy installs.
In Issue 4, the 'Net-Zero Issue', readers can find out more about:
Hydronic Systems for Low Energy & Net-Zero Buildings
How to Protect & Optimise Heat Pump Installations
Dispelling Myths about HIUs on Heat Pump Led Networks
Solar & Biomass Solutions
Issue four explores how hydronic-based systems can be beneficial when installed in low-energy and Net-Zero buildings. Offering advice on elements of the system, such as piping flexibility, distribution efficiency, and preparing for future expansion, this issue provides professionals with the knowledge that they need to make their systems future-proof. This is then further supported by additional articles on heat networks, sustainability, and renewable solutions.
Helen Cooper, head of marketing at Altecnic, said: "As a responsible manufacturer and supplier, we want to play our part to prepare and inform the industry about the various changes that are coming as a result of the decarbonisation of heating. Our two new issues cover this on both a domestic and commercial level, providing practical insight to those working in various roles and industry sectors."  
The issues are now available digitally and can be accessed when subscribed via the link https://www.altecnic.co.uk/technical-hub/idronicsuk/