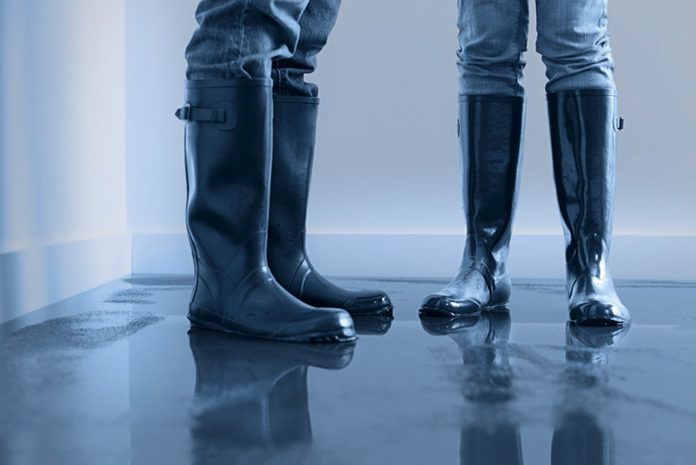 Results from the Water Regulation Advisory Scheme's (WRAS) recent survey revealed many young people have a lack of plumbing knowledge that could help when faced with an emergency water problem.
The report revealed that 82% of 18-24-year-olds don't think to ask where the main stopcock is when moving into a new home, vital information needed in order to switch off the mains water supply in the event of a leak or burst pipe.
Results from the GROHE Water Security Survey in 2017 highlighted that more than half of homes in Europe have already experienced water damage in their homes once, and shockingly, 93% of these cases were preventable.
Here are some easy, every day steps you can take to protect your home from the disastrous effects of water damage:
1. Locate your stopcock and water meter
In most properties, the stopcock can be found under the kitchen sink or utility room sink. It will be the first connection into the property and typically has a small brass handle, although in some newer houses this may be plastic. The location of your water meter will vary from property to property however in most cases, it will be on the boundary of your property in either the front or back, normally covered by a small black square cover. You should not touch this unless in an emergency.
2. Take small and simple steps to prevent water damage
If you're going away during winter, keep your central heating and hot water on a timer for an hour each morning and an hour each evening to ensure your pipes don't freeze over in the wintery temperatures.
3. Invest in water security smart tech
It is well worth investing in a smart water security system like the GROHE Sense and Sense Guard to monitor and protect your home against water damage. GROHE Sense and Sense Guard is a smart water sensor and controller system which detects flooding, frost risk, micro leakages and pipe breaks as well as tracking room temperature and humidity. In the event any issues are detected, you are alerted via an app so that you can act quickly, and if needed, switch off the mains water supply with just the tap of a button from your phone.
4. Homeowners! Inspect your loft
'Out of sight out of mind' could scream trouble if you neglect your loft. Make a mental note to inspect your loft regularly to check that there are no signs of a slow leak or mould. Ensure the cold water tank in your loft is properly insulated in order to protect the filling values from freezing. You should also double check that all pipework located in the loft is insulated to industry standard and ask a professional for advice if you're unsure.
5. Get to grips with your water system
You might not be thinking about upgrading your shower just yet but knowing your water system will determine which kind of bathroom fittings you can use. Not all products can work efficiently with all water systems, so you'll want to make sure you know the type of water system you have and the products that will work the most economically and high performance. After all, there's nothing worse than having little more than a drizzle to call your morning shower.
6. How to fix a leaking tap (without a plumber)
Without even realising, even the smallest of leaks in a tap can cost hundreds of pounds a year. It's not something you really want to splash out for when you're adjusting to life in your first home. Small fixes to a tap can be a simple DIY job that anyone can do, with no need to call in a plumber. Most manufacturers supply spares for over ten years, so replacing a ceramic cartridge can save you money and can be completed in under an hour. Fixing small leaks when they arise can also help prevent bigger problems in the future, so it is worth investing a bit of time or money in getting these fixed as soon as you spot them.
7. First time managing bills? Learn how to keep costs down
Living in your first property, whether rented or owned, is a daunting prospect and the management of household bills is just one of many responsibilities that comes with the territory (literally!). Thankfully, app technology and clever gadgets can help you keep a tab on how much water you are consuming and which of your appliances are guzzling not only water, but your money too.