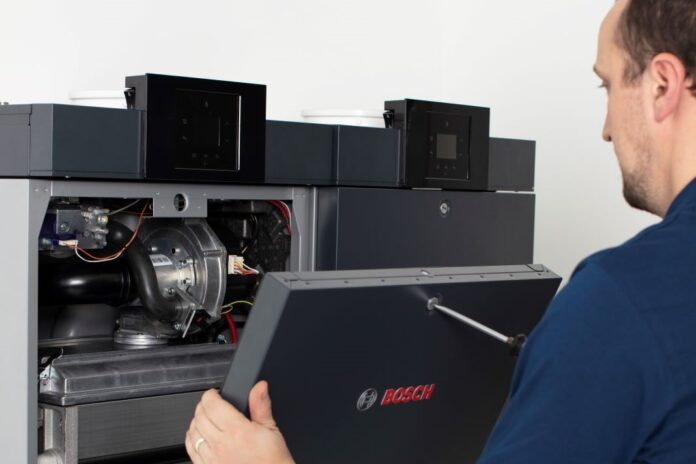 Bosch Commercial & Industrial is delighted to announce the launch of its latest commercial boiler series, the Condens 7000 WP.
The new series replaces the popular Worcester Bosch GB162 V2, with a new design developed to increase install time with simplicity in mind. Installers can expect to save up to 60% on average installation times when fitting the Condens 7000 WP compared to the GB162 V2, freeing up time to complete other installs or wider administrative work.
This is thanks to a new frame kit design, simple install steps with minimal tools required and an easily accessible PCB.
Outputs of 50kW, 65kW, 85kW and 100kW are available to order now, with higher outputs of 125kW and 145kW launching later in the month.
The range has the ability to cascade up to 860kW and so also offers the wider benefits of cascading, such as achieving higher outputs without having to source considerably more space on the premises. This provides your customers with ease of mind that heat will still be available even when a boiler needs to be serviced.
The series is suitable for larger domestic properties as well as commercial, hybrid and communal solutions. It is also suitable for small spaces or those with low ceilings, with outputs up 570kW achievable in a space as small as 1m².
Simon Tarr, National Projects Director at Bosch Commercial & Industrial, said: "Our new range has been developed with installer's time in mind. We have taken the complexity away from each step of the product journey. When specifying, each pack contains all the base components required, sitting under one part number. This enables installers to easily receive a quotation from their local merchants."
www.bosch-thermotechnology.com/gb/en/commercial-industrial/condens7000