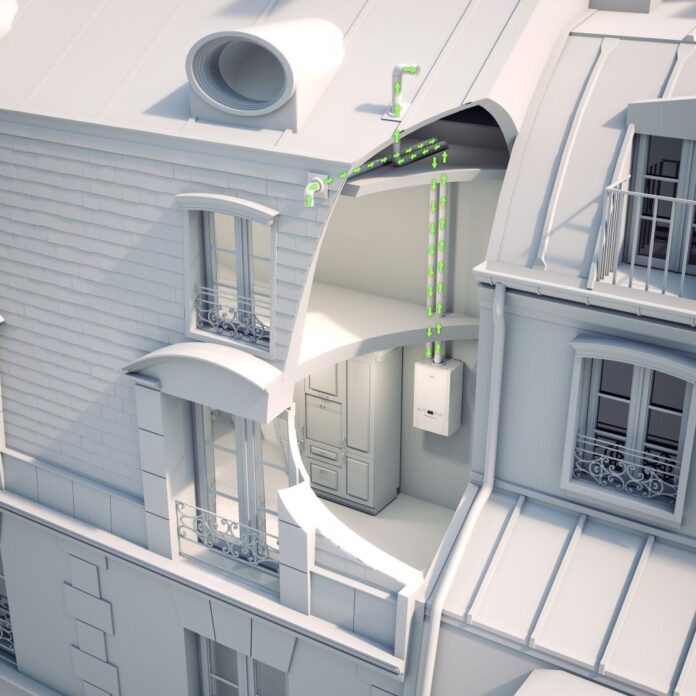 The Keston twin flue boiler system makes installation jobs simpler and provides heating engineers with maximum flexibility. The range includes both domestic and light commercial models, which all come complete with twin flue capability and are made up of Combi, Heat only and System boilers. Every model in the range offers a market-leading solution for awkward and problematic installations.
The twin flue system – with separate air inlet and flue pipes – makes every job easier and provides maximum flue flexibility. The flue can be run vertically or horizontally from an elevation of 1.5° and can be extended up to 27 metres from the boiler allowing for easy and hassle-free installation. With Keston the boiler can be situated in any room, any place, anywhere.
Installations that would previously have presented several challenges are now possible, such as in basements, where moving the boiler would present significant cost implication; or landlocked flats where there is a lack of sufficient external wall space; or within listed buildings where other property regulations may have an effect on flue termination.
British built since 2013, the rigorous research and development procedures and manufacturing quality control checks ensure all Keston boilers and appliances are produced to the highest of standards, giving Keston the confidence to offer warranties of up to 7 years. All with the support of a dedicated national customer service team, delivering help and advice 7 days a week.
Free training is available at the Training Centre of Excellence sites in Hull, Leeds and Reading.
For more details visit: www.Keston.co.uk