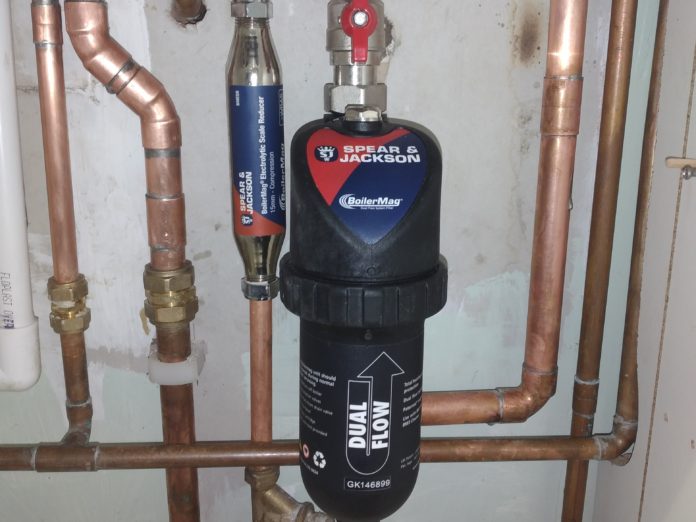 Ben Frost, of A Touch of Frost Ltd, based in Rushden, Northamptonshire, has sung the praises of BoilerMag's magnetic domestic heating filters.
As a Baxi supporting installer, Ben regularly fits or recommends the magnetic filtration systems to his customers' heating systems having noticed the impressive benefits following a recommendation from his supplier, Watertight Plumbing and Heating Supplies.
BoilerMag provides a tried and trusted patented magnetic technology that ensures virtually 100% of ferrous oxide and scale is removed on first pass. The filter can be installed within minutes and will protect for years. Its easy clean mechanism makes maintenance simple and efficient, removing both magnetic and non-magnetic debris in seconds.
Ben said. "I always fit BoilerMags. If I service a boiler that doesn't have one, I always recommend that one is fitted in the very near future. The Part L Compliance Pack that BoilerMag supply with scale reducer, cleaner and inhibitor is the only kit I order. It is fantastic."
Ben has shown true compassion working through the pandemic, recently coming to the rescue of NHS keyworker, Jackie Valentine. After bearing the brunt of the Coronavirus pandemic, Ms Valentine, was left without heating or hot water when her boiler broke down in the grips of winter. An end of life worker who has been stationed solely on Northamptonshire's COVID wards over the last four months.
Following a call out to the condemned boiler, heating engineer Ben was so moved by Jackie's story, he pledged to fix the heating system free of charge.