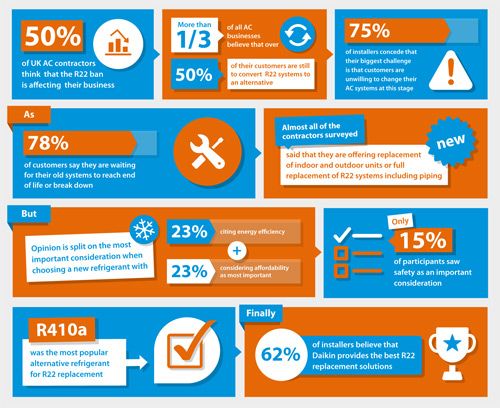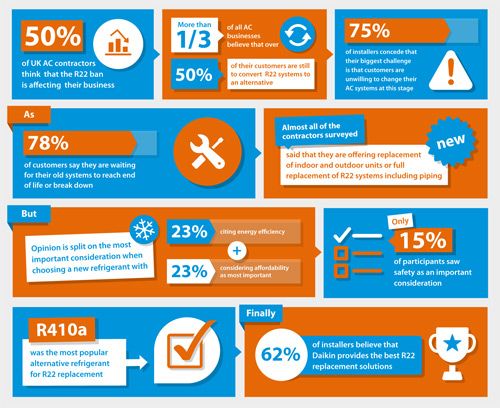 A recent survey of air conditioning contractors and installers has found that the R22 ban is impacting businesses eight months after it was enforced. Contractors believe that the reluctance of customers to update their AC system to a more energy efficient, lower Global Warming Potential (GWP) refrigerant is impacting on new business opportunities.
Following the ban on replacing R22 refrigerant in existing air conditioning systems in January 2015, Daikin UK undertook a survey of AC contractors and installers to discover how the ban is impacting on businesses more than eight months on.
Producing enlightening results, more than half of those surveyed believe the R22 ban is affecting their business, with more than a third of all businesses under the impression that 50% of their customers are still to convert their R22 systems to an alternative refrigerant.
Adding to this, the majority of installers conceded that their biggest challenge is that customers are unwilling to change their AC system at this time, with a shocking 78% waiting for their existing system to reach its end of life or breakdown before considering a replacement refrigerant.
When choosing an alternative refrigerant, opinions of installers are split, with 23% believing energy efficiency is the most important factor, and 23% also considering affordability to be as important.
Martin Passingham, product manager of DX at Daikin UK said: "One of the most important findings of the survey was that only 15% of respondents saw safety as an important consideration, and more than 75% think that R410a and R32 are the most popular alternatives.
"As an industry leader in R22 replacements, it is good to see there is an awareness amongst installers of the highly energy efficient, lower GWP refrigerants such as R410a and R32. It is also good to see that there is a positive attitude from installers towards new, lower GWP refrigerants when considering alternatives to R22.
"At Daikin UK, we are encouraging building owners and managers to seriously consider their R22 replacement options sooner rather than later. As such, AC contractors should be ready to offer replacement options using more energy efficient systems."