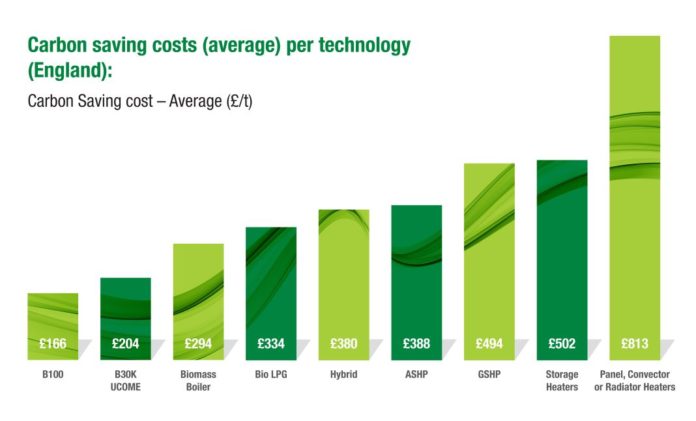 OFTEC has this year commissioned a six-month research project investigating the potential of liquid biofuels. OFTEC CEO Paul Rose reports back on the findings
The climate change agenda is rapidly hotting up and so is the need for all sectors of the economy to take action, including heating which is widely recognised as one of the most difficult sectors to tackle.
The complexity of the task should not, however, act as a deterrent and over the past 12 months, OFTEC has spearheaded in-depth, independent research to assess the most effective way to transition the UK's 1.53 million oil heated homes to low carbon heat.
The findings compellingly show the answer lies in the fuel not the appliance, and that liquid biofuels offer a viable and valuable contribution towards the net zero pathway for industry, government and consumers.
INDUSTRY INSIGHT
It has been assumed by many commentators that alternative industries will inevitably replace the off-grid heating sector. But the transition to low carbon heat will be more quickly and effectively achieved if existing expertise and capability is harnessed. More than 25 years at the forefront of industry has equipped OFTEC with expert insight into the oil heating sector and the consumers it serves.
This knowledge is essential to securing a successful solution for this hard to treat sector.
The research commissioned by OFTEC confirms almost half, 46%, of oil heated homes in England were built pre-1919 and, as a consequence, are poorly insulated.
Many oil heated households, 47%, still rely on older, less efficient systems to heat their already 'leaky' homes, so it is unsurprising that some 97% of all oil heated properties in England currently fall into EPC band D-G.
Reducing heat demand from oil heated properties should be an essential starting point for any low carbon solution. But in reality, the depth of energy efficiency improvements which can be made is often restricted by cost and practical issues.
The varied character and disparate and often remote location of oil heated households also requires consideration.
CONSUMERS ARE KEY
It's also important not to underestimate the role of consumers. More people than ever are concerned about climate change but many are understandably still reluctant to move away from trusted heating systems with low running costs.
Asking people to make expensive and often disruptive changes to their homes is a major barrier to progress. The situation is compounded by squeezed incomes, especially in the countryside where the cost of living is higher, and with a wider fuel poverty gap and older population in rural areas, it's essential the transition to low carbon heat is fair, practical and affordable for all.
Up until now, carbon reduction and energy efficiency schemes have failed to deliver as they don't address these crucial factors. Fresh thinking is required.
FABRIC FIRST
Despite the outlined challenges, OFTEC's research shows there is still considerable potential to upgrade the fabric of oil heated homes and retrofits could be achieved in varying degrees, depending on property type and the willingness of the owners.
The research suggests that 'reasonable' fabric improvements, for example first time or top up loft insulation, double glazing, or cavity wall insulation would likely cost approx. £6,350 – £9,150 and reduce overall heat demand by an estimated 15%.
However, many properties are suitable for 'deep' improvements, such as solid wall and floor insulation at an estimated average cost of approx £10,100 – £14,350, resulting in 42% reduction in heat demand.
Realistically, government support will be needed to help oil heated households make these changes – certainly those on low incomes and the fuel poor.
But even in homes where the cost or other factors make improvements difficult, liquid biofuels can offer a strong solution as heat performance is not reliant on a building's thermal efficiency.
FUTUREPROOF SOLUTION
OFTEC's research enables a full comparison of all alternative heating solutions currently available, based on a measure of both decarbonisation and the cost impact to the end consumer – the Carbon Saving Cost (£/ tonne of carbon saved).
This takes into account the cost of fabric improvements, how many homes can be realistically upgraded and the operating and capital cost of each solution. The findings conclusively show that biofuels offer the most cost effective, practical and futureproof solution for decarbonising oil heating.
A pure biofuel (B100) is the leading option, providing the lowest cost/ highest carbon reduction (zero), followed by B30 UCOME (a kerosene and FAME blend). Changing from kerosene to a biofuel requires only relatively modest appliance adjustments and system upgrades and provides a convenient, non-intrusive, low cost solution – meeting consumers' priority needs and maximizing potential buy-in.
The deployment of liquid biofuels in the heat sector, rather than the electric solutions favoured by some policy advisors, would also increase energy security by reducing the future demand for electricity, particularly during severe weather when usage is expected to increase dramatically and renewable electricity generation could be lower.
PATH TO NET ZERO
Liquid biofuels are already available with global production increasing year-on-year, up 7% in 2018. The biggest demand is from transport but with the rise of electric vehicles, biofuel use in diesel is expected to decline from the 2020s, increasing available volumes for heat.
The fuel industry is already buying, storing and blending bioliquids for transport use so only relatively modest investment will be initially needed to supply the heat market. The existing network of over 9,000 qualified and registered OFTEC technicians are also on hand to install and service liquid biofuel heating systems with minimal additional training.
Questions over the availability and sustainability of biofuels are addressed by the research which shows an increasing range of sustainable feedstocks will become available over time.
Processors of liquid biofuels made from waste oils, gases, processed wastes, forestry and agricultural residues are currently active across the world and investing further.
OFTEC has already carried out successful trials of a low carbon blend of 30% biofuel (FAME) with 70% kerosene on existing heating systems which provides a drop-in replacement for heating oil. The intention is to build on this, increasing the bio element of the fuel (in whatever form this takes) to 100% pure biofuel solution over the next few decades.
Further field trials are due to commence this autumn and OFTEC will continue its work with industry and government to develop a practical pathway for the roll out of liquid biofuels, securing a clean energy solution for oil heated homes into the future.
By Paul Rose, CEO of OFTEC.