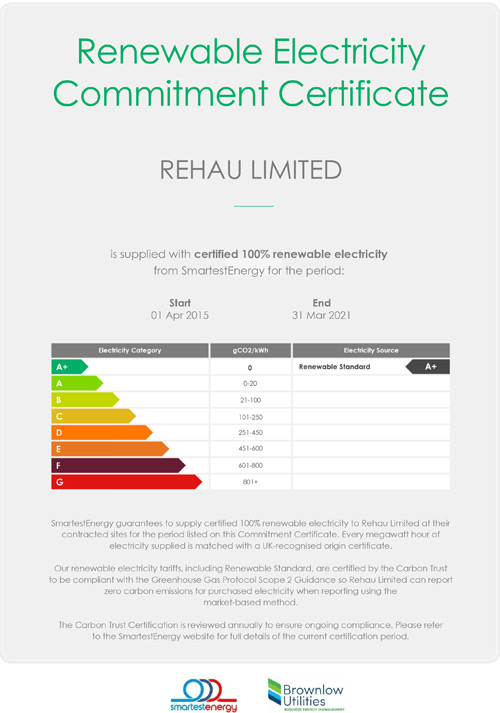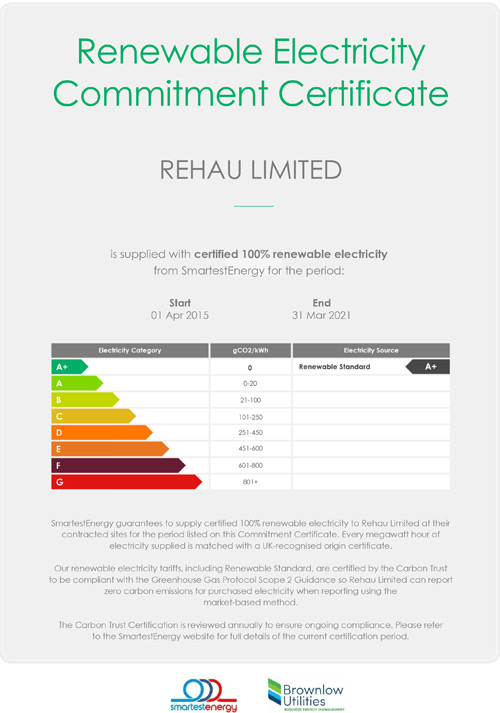 As part of an ongoing commitment to sustainability and constantly striving to improve its green credentials, REHAU has once again received SmartestEnergy's 'Renewable Electricity Commitment' certificate.
The certificate, authorised by the Carbon Trust, recognises that REHAU's factory in Blaenau, warehouse in Runcorn and offices in Manchester and Ross-on-Wye, will be running off 100% renewable electricity until March 2021.
The award is reviewed annually to ensure companies with the accolade remain supplied by recognised providers. The renewable electricity being used by REHAU is certified by the Carbon Trust to be compliant with Greenhouse Gas Protocol Scope 2 guidance, which means the firm can report zero carbon emissions for purchased electricity.
Martin Hitchin, chief executive, said: "As a global company, REHAU understand we have a responsibility to run our company in a sustainable and environmentally-friendly way. We are committed to protecting the environment and using natural resources responsibly.
"We believe in building our principles from the ground up which is why our stance on sustainability is clear from our energy supplier through to the groundbreaking products we develop.
"Our smart products have been designed to actively reduce carbon emissions. We also make a valuable contribution to environmental protection through our qualified recycling solutions made of polymeric materials.
"Although we are incredibly proud of the work we have already done in this area, we are not willing to sit back. We have clear objectives that we want to achieve by 2020 that include: reducing primary energy consumption by 20%, carbon emissions by 25% and water consumption by 40%."