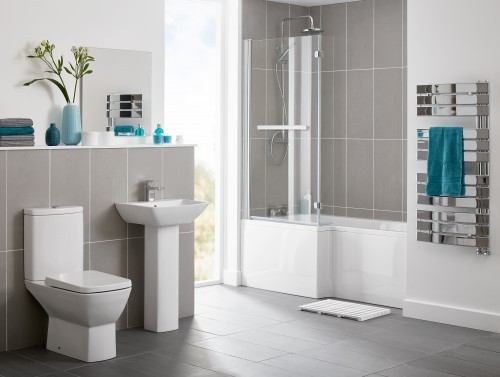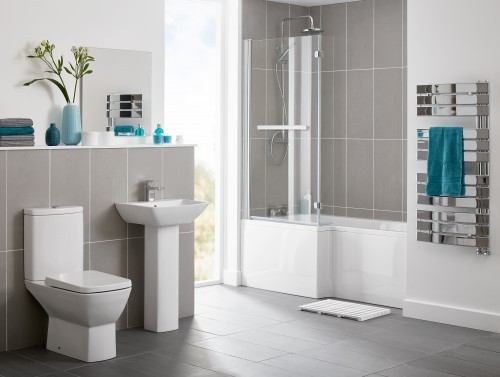 Ideal Bathrooms has extended their range to give retailers the latest styles and options for their showrooms.
The new products within The Essential collection offer retailers excellent quality and style at price points to compete against internet traders and DIY retailers.
New suites Violet and Jasmine have been added to the range, offering the same outstanding quality and value as the other Essential suites, Lily, Orchid, Fuchsia and Iris.
Violet is an entry-level suite with rounded styling (available from October), Water Regulations Advisory Scheme (WRAS) approval and pre-installed cistern fittings. Jasmine offers chic square shaping as a different style option to the popular Fuchsia suite and at a similar price. Jasmine comes complete with pre-installed Geberit cistern fittings, WRAS approval and is perfectly suited for higher-end showrooms, offering high style at ultra-competitive prices.
The Essential bath range has also undergone a major makeover: The range now features additional standard baths, including new Quartz reinforced models, which offer improved heat retention and strength, and further freestanding styles.
All of the new baths are made in the UK, offering Essential customers superior quality products. In addition to the Quartz models, there are additional styles and sizes of standard acrylic baths, new traditional single ended and slipper baths, brand new contemporary freestanding baths in the Chelsea and Mayfair, and softly curved freestanding Holborn bath, which includes a self-paint option for more adventurous customers.
A new entry-level space saving chrome towel warmer range with a width of 400mm has also been introduced. Made from steel for long life and with superior quality 25 mm rail thicknesses, the new towel warmers are ideally suited for smaller rooms or awkward spaces. Straight or angled chrome plated thermostatic valves are also now available to fit all of the Essential towel warmers, offering precise temperature control for your bathroom.
The new Essential portfolio continues the concept of high quality, excellent style and great value that is the hallmark of all Essential products. The aim of the range is to give retailers an alternative to compete against the internet and DIY retailers.
In addition to the products themselves, the brand is also receiving a face lift to create a more aspirational and consistent identity.