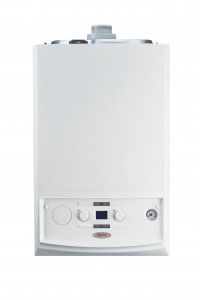 Alpha Heating Innovation has launched a new wall-mounted boiler, the InTec2 X. With a compact design focused on ease of operation and installation, the latest addition to Alpha's domestic range claims to deliver on quality, reliability, energy efficiency and value.
Designed with both homeowners and installers in mind, the new models are smaller and lighter than ever before and can be fitted into a standard kitchen unit. They are, therefore, ideal when space is limited.
Now with advanced combustion management, the InTec2 boilers continually control and adjust the gas flow to deliver improved energy efficiency. A new heat exchanger with larger waterways and lower overall water content delivers faster warm-up and better circulation.
The pinted circuit board (PCB) contains a memory chip that holds key data including user and calibration settings. This can be transferred easily to a new PCB if necessary without the need to re-set the boiler.
With a new combined condensate and pressure relief valve connection, less pipework is required, saving time during installation. Easy access to components and dry-change negative temperature co-efficient also allows simpler and quicker routine servicing.
Darran Smith, product manager from Alpha, said: "During the development of any new product we take on board the feedback from both customers and installers alike and transfer this into our designs. The InTec2 X gives the customer an energy efficient solution to heating their home for years to come, but also makes the job of the engineer as easy as possible."
Two InTec2 X models are the first in the series to be launched, available in a choice of 24 or 28kW outputs.