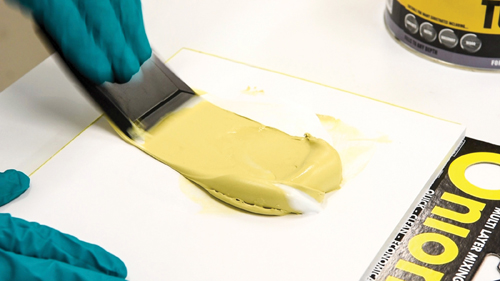 U-Pol – the UK market leader in automotive body shop coatings and fillers – has brought its decades of experience in surface finishing to the professional tradesperson with the introduction of three high performance construction fillers.
Surface perfection is a must in automotive body shop repairs, and U-POL's expertise in meeting the requirements of that sector mean its new building range delivers the same quality, ease of use and high performance.
U-Pol's TOUGHfill™, FASTfill™ and EASYfill™ collectively offer a range of fillers that provide plumbers, heating engineers and kitchen and bathroom fitters with a solution for all requirements and applications – from load bearing to making good and other remedial tasks.
They are all so-called '2K' two-component products. 2K fillers are superior in all ways to standard one-part ready-mixed products predominant in the industry. They combine the durability and toughness only associated with two-part technology with easy sanding to give a superior, professional finish which can be ready for painting in as little as 20 minutes.
Microbead technology results in fillers that are ultra-easy to sand and can fill to any depth. The products are suitable for interior and exterior repairs, don't crack or shrink and can be drilled, screwed or nailed – and all can be used on multiple substrates.
FASTfill™ is a high performance, fast-drying filler specially formulated with unique snap-cure technology to produce a tough repair ready to sand and mould in ten minutes. FASTfill™ can be used in both interior and exterior applications where speed is crucial. It is also an ideal solution for repairing areas where the damage is exposed to all types of weather.
TOUGHfill™ has been specifically designed to work in high-demand environments, where durability and resilience is paramount. TOUGHfill™ can be used to repair holes, dents, splits and cracks and take structural loads – up to 37kg – making it an ideal partner to repair or provide extra holding strength on most surfaces
A lightweight polyester filler perfect for all minor and last-minute surface imperfections, EASYfill™ delivers a smooth surface that is easy to sand down flat or shape and ready for painting in 20 minutes. Advanced microbead technology makes EASYfill™ the easiest to sand filler in the range, designed to deliver outstanding performance with a flawless finish ready for final paint.
With the great similarities between the needs of car preparation and of building – and U-POL's long UK manufacturing heritage stretching back 70 years – the trade professional can be confident the new TOUGHfill™, FASTfill™ and EASYfill™ range of construction fillers will meet the most exacting of their demands.