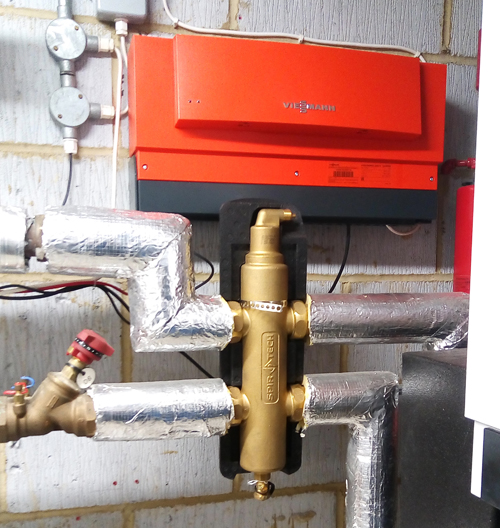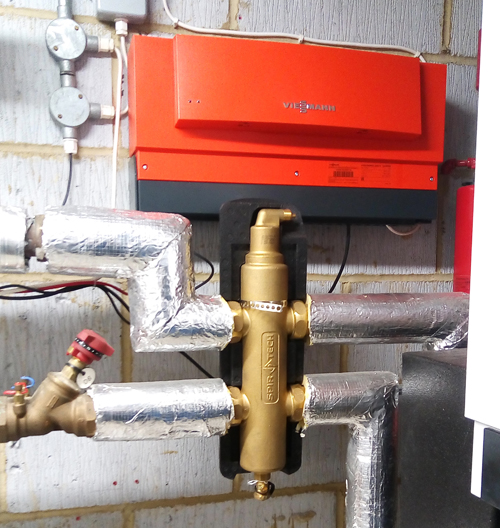 The triple functionality of Spirotech's SpiroCross has proved itself 'top of the class' for heating and boiler specialist, Abbots Heating.
Since being won over to the advantages of the joint air and dirt separator with hydraulic balancing, the company has installed the 3-in-1 product in a school and a golf club.
The SpiroCross is designed for optimum use in new-build and refurbished apartment buildings, small offices and other commercial locations.
As a single unit, it carries the flow and return and has at its heart a spiral structure, the Spirotube, which ensures that micro bubbles in the fluid rise automatically, while dirt particles sink.
Abbots Heating, based in Abbots Langley, near Watford, specified the SpiroCross for St Michael's Catholic High School in nearby Garston.
The company installed the AX 150 into the school's 100kW cascade format heating system and an AX 125 for the 49kW single system serving its administration block.
Abbots Heating also chose an AX 125 for Grim's Dyke Golf Club, at Hatch End, near Pinner, Middlesex.
Paul Jeeves, director of Abbots Heating, said: "We have used SpiroCross on systems between 45kw and up to 160kw, using Viesmann boilers, for the past three years.
"We have found the SpiroCross to have a low resistance to flow and, with the added benefits of debris collection and air separation, found it to protect the systems very well.
"When compared to the alternative of building your own low loss header – with the added cost of strainers and labour on top of basic materials then lagging it – the SpiroCross is very cost effective, especially with the pre-formed insulation jacket.
"It is extremely compact, which is an advantage when space is at a premium."
Spirotech specification manager, Keith Mileham, said: "The SpiroCross was developed using computational fluid dynamics. As well as performing the functions of three otherwise separate components, it has the advantage of a market leading 20-year warranty.
"Like all Spirotech products, it is designed to help the heating, or cooling, system work to its most efficient while also protecting against corrosion.
"While the Spirotube in the SpiroCross can trap the smallest micro bubbles and dirt particles, its open structure means it will not clog up, while the flow and the low pressure drop are unaffected by the accumulated dirt.
"The trapped dirt can be discharged while the system is in operation. This saves a great deal of time and represents a major advantage over filters."