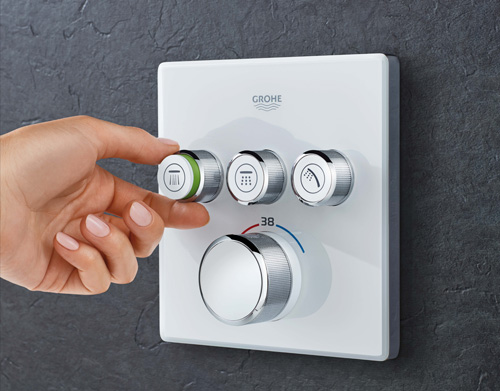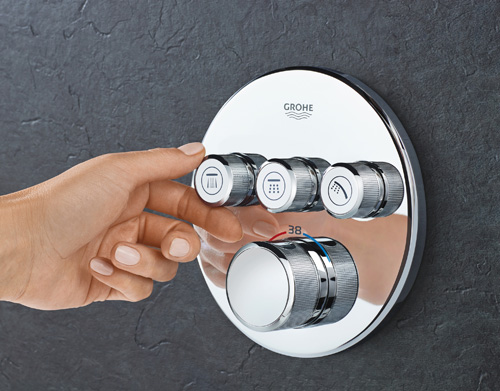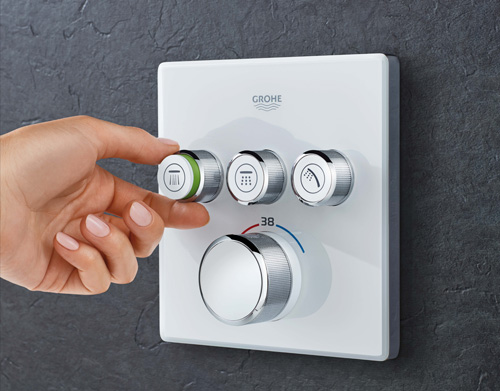 Optimise space with this exceptionally "slim" duo: GROHE SmartControl Concealed in combination with the new GROHE Rapido SmartBox.
Thanks to the concealed technology behind the wall and elegant ultra slim design with only 43 mm outreach on the wall, GROHE SmartControl Concealed will free up space in the shower.
The new push and rotate SmartControl models are available in square or round designs as well as in chrome or moon white finishes.
By combining the new two-stream Rainshower 310 SmartActive showerheads, you have the perfect installation solution for every bathroom.
GROHE SmartControl Concealed – Installation and user benefits include:
Just one rough-in and one mounting kit (instead of the usual two) required for the operation of a hand spray and a showerhead with two types of spray modes. This allows the control of up to three shower or bath filler functions with only one trim.
Stylish and easy, intuitive operation for the user. Select spray modes at the push of a button, and rotate knob to control volume. The SmartControl knobs are supplied with clearly recognisable symbols for the different shower or bath options.
The GROHE SmartControl Concealed models project only 43 mm from the wall regardless of the installation depth of the rough-in and the GROHE SmartControl wall plate is only 10 mm deep for slim and sleek appearance.
Available in round or square designs as well as in chrome and moon white finishes. The integrated sealing system completely eliminates any water behind the wall.
GROHE Rapido SmartBox – Installation benefits:
Three outlets for a wider range of showering options, for which previously two rough-ins were necessary. Adapters now practically unnecessary. It has ½ inch outlets to which all standard cables can be connected.
Equipped with inlets to be connected from below, which allow a direct connection to the hot and cold water supply. The use of 90º fittings is a thing of the past.
Thanks to the long holes in the functional unit, GROHE wall plates can be adjusted by up to 6º and can be aligned perfectly with tiles and joints.
With an installation depth of only 75 mm, the GROHE Rapido SmartBox fits into every kind of wall, even particularly narrow ones.
Thanks to the optional service stops for retrofit, the GROHE Rapido SmartBox allows complete control over the water supply in just a few steps. During maintenance, each of the building's SmartControl fittings can be closed directly and separately. Service stops are optionally available for the GROHE Rapido SmartBox and can be easily retrofitted.
The GROHE Rapido SmartBox can be retrofitted with a safety protection against backflow and meets the EU standard 1717 when installed with a bath filler.
Thanks to the handy brass outlets, the connection to the pipes can be installed with the help of a pipe wrench so that the mounting on-site can be carried out fast and easily. A bench vice is not necessary.
Pic cap:
1 The GROHE SmartBox
2 The GROHE SmartControl