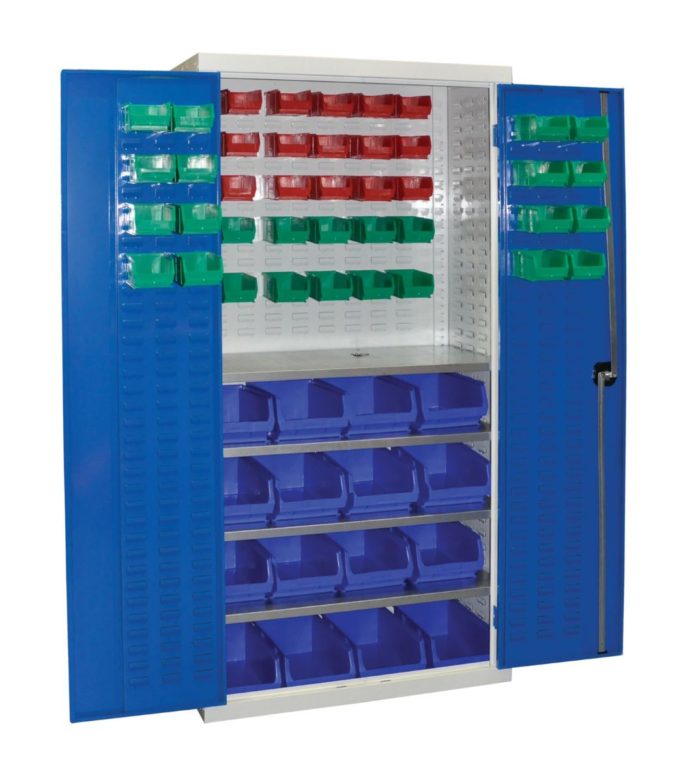 When it comes to organising your workstation, large items are the easiest. Simply stack on top of one another, or display on a shelf and you are good to go. But what about smaller parts like those tiny screws and bolts that always seem to roll off onto the floor, never to be seen again?
Small items can easily get misplaced, especially if they are stored in various different places around your space which makes them difficult to find. Optimising the use of small parts storage cabinets in your workplace can help you stay on top of your work and save you both time and money.
Thankfully, Birmingham-based industrial supplier First Mats Ltd have recently launched their brand-new collection of small parts storage systems, so you can achieve all your organisation goals.
Ideal for storing fasteners, screws, small parts and other assembly components, their range includes tough, plastic sliding-door cabinets and sturdy full steel cabinets, as well as wall-mountable and stackable cabinets for areas where space is tight.
Or, if you have reached a point where you have too many containers all over the place, First Mats also stock mobile bin trolleys. You could even customise your bins by colour coordinating them to create a picture-perfect workstation.
As with all products on the First Mats website, their small parts storage systems are offered with fast and free delivery on orders over £45 + VAT, so you can expect your new equipment to arrive on your doorstep in just two to three days!
First Mats is recognised as one of the most trusted suppliers in the country, with an enviable Trustpilot rating of 4.8 out of 5 stars. For more information, please contact First Mats or visit the website www.firstmats.co.uk