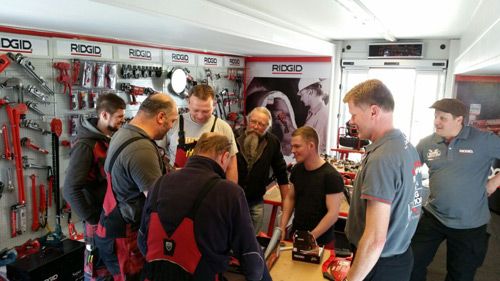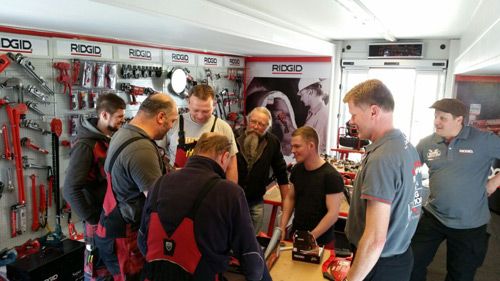 This September, Ridge Tool Europe launches under the slogan "Driving Innovation since 1923" a highly expected event, the RIDGID Roadshow.
If you or your company operates in the rental, plumbing, HVAC/R, utility, industrial, electrical, petroleum, drain cleaning, pipeline inspection, utility locating, mining, construction markets, then a visit to the RIDGID Roadshow is a must for you.
Details of dates near you are available from the Roadshow website (www.ridgidroadshow.com) by clicking on the Tour Schedule and selecting the country of your choice.
With more than 200 tool types and products aimed at this vast range of markets, both large and small scale, the Roadshow offers visitors the opportunity to experience not just the most innovative and state-of-the-art tools on static display but to also partake in interactive demonstrations. This interactive nature of the event means that potential end-users can get to know just how effective the tool might be for their particular type of work before buying, either as a one-off purchase or for tooling up a whole workforce. In the global market today efficiency, ease of use and cost-effectiveness are key guidelines for product purchasers and it is in significant part that these demands are the foundation that underpin RIDGID's design philosophy. The latest solutions from RIDGID at the show will highlight innovations in CCTV camera systems, utility locators, drain maintenance products and solutions for electrical applications.
The Roadshow also offers potential end-users the opportunity to feedback comment on the latest RIDGID offerings, as well as discussing ideas for future tool development that may be of use to their sector through interaction with Ridge Tool Europe's highly trained and industry-experienced tool specialists and global distributors who will be displaying the tools and performing the demonstrations at the show.
"Our success is in large part due to our customers and their expectations of us," said Fred Pond, president of Ridge Tool Company. "We are always willing to listen and are continually looking to provide solutions to our customer's ever-changing needs. In reality, our reputation really depends on theirs and the work completed in the field. As a result, we have strived to consistently design some of the most innovative and reliable tools on the market."
As well as manufacturing its wide ranging tool arsenal, RIDGID also invests heavily in programmes for training. All training programmes are tailored to meet a client's specific needs and requirements. So, whether you are a beginner, just finding RIDGID tools for the first time, or an expert with long-term experience in using professional tools, the company's training programmes can help a company get the job done better. The Roadshow will also have staff on hand to discuss any training options that visitors may require.
Teodora Takacs, marketing manager for RIDGID EMEA, said of the Roadshow: "We are very excited to get back on the road over the course of 2015. Each show stop provides tradesmen a chance to experience the latest RIDGID innovations. We care about the specific job needs of our customers and we are always interested in what ultimately helps them to do their jobs better and more efficiently. Our evolving technologies help our clients solve today's problems, while our advanced engineering capabilities always manage to anticipate their future needs as well."