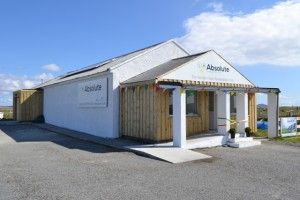 Businesses and homeowners in the Western Isles welcomed the opening of a renewable hub, which showcases the latest green products available to the UK market.
The Western Isles renewable hub opened its doors this May as a result of a partnership between technical installation duo, David Mackay and Cailean MacDonald, and renewable solutions expert, Absolute Solar and Wind.
The hub welcomed over 50 businesses and homeowners at the open day on May 2, in Benbecula, giving visitors a chance to see working examples of renewable products.
David and Cailean are managing the hub, sharing their years of experience installing renewable energy systems to offer expert advice to all interested parties across the Western Isles.
David said: "The hub gives visitors a chance to get up close to understand the inner workings of systems including biomass boilers, solar PV, thermal/air destratification and full information on the range of wind turbines Absolute offer.
"We think it's a great opportunity for the Western Isles to make the most of green products, with renewable electricity now Scotland's largest source of power it is important that we provide support for those that are looking for a greener solution."
Absolute managing director, Tom Newall, said: "We had great feedback on the day from both individuals and businesses interested in the products, it gave people a chance to understand their options as well as the economic and environmental benefits they can reap from investing in renewables, such as solar, biomass and wind."
The hub in Benbecula was launched following the Glenskinno Biofuels initiative in 2014 – founded by Absolute in partnership with Angus-based farm owner the Gall family.
The Western Isles hub is the latest Absolute project and will be open seven days a week, aimed at domestic, agricultural and commercial land and property owners from across the Outer Hebrides.
Tom said: "We have announced the opening of the hub following the release of Scotland's renewable energy statistics from the Department of Energy and Climate Change confirming the negative impact rising energy costs are having on the sustainability of domestic and businesses energy bills.
"Over the years our team of renewable experts has had the privilege to oversee some of the most ground-breaking renewable projects across the country, and is delighted to bring this latest initiative to the Western Isles.
"David and Cailean will be able to help all potential customers to establish which products are most effective for them and helping them through the necessary steps from planning permission through to installation.
"Our focus is to offer the local community real insight into the economic and environmental benefits of renewables, and to ensure that the process is as efficient and timely as possible."