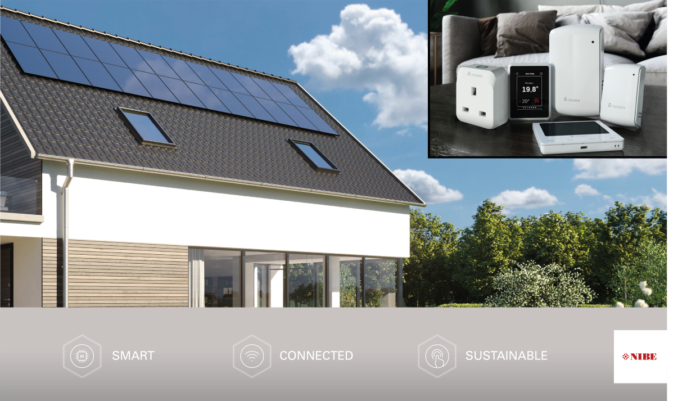 Providing a complete energy efficient solution for household heating, NIBE Energy Systems has launched a selection Solar PV panels to power its heat pumps and expanded its range of smart home accessories to maximize indoor comfort and climate control.
The new selection of wireless smart home accessories complements its S-Series range of heat pumps, offering more comfortable, precise room-by-room or 'zone-by-zone' climate control. Each of the small units can be easily mounted on the wall and connected to an S-Series heat pump, automatically adjusting the temperature humidity and CO2 levels for high comfort and low energy consumption and becoming a natural part of the connected home.
Another key part of the home is the new NIBE PV package, comprised of monocrystalline silicone cell panels using PERC technology for maximum efficiency, available in two sizes with an elegant all-black design. Homes with a NIBE heat pump and PV package can benefit from the production of free solar to power heating, hot water and cooling needs, while reducing carbon emissions and energy bills all year round.
To find out more about the new product range of smart home accessories and NIBE PV, please visit www.nibe.eu/en-gb/products
For more information on NIBE Energy Systems and its range of products, follow @NIBEENergy on Twitter and NIBE Energy Systems Limited on LinkedIn.