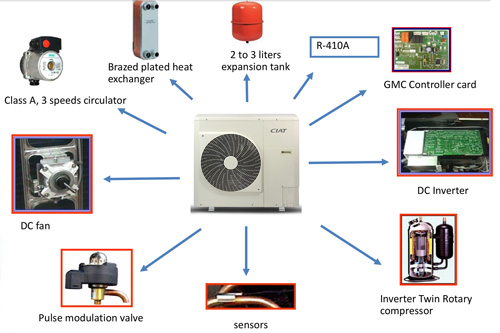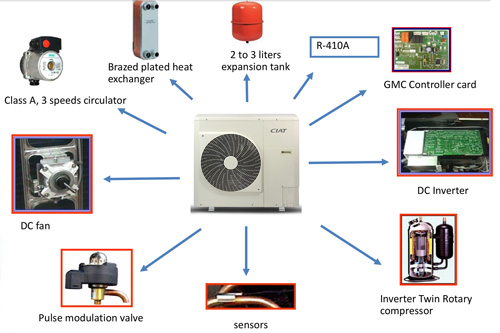 CIAT Ozonair has introduced a new range of high efficiency Ereba monobloc air-to-water heat pumps, to provide low running cost, low carbon heating, and cooling for homes and small commercial premises.
The new Ereba units, available via CIAT and Toshiba Air Conditioning, are available from 4kW through to 21kW as a Monobloc system, providing heating and cooling.
Based on a high efficiency two-stage rotary compressor, Ereba uses an inverter-driven DC motor to deliver heating efficiencies of up to 4.3 Coefficient of Performance (COP), certified by Eurovent, giving it an A+ efficiency rating.
It can be used as a stand-alone heating source in new homes or small commercial applications, or to augment/back-up conventional boiler-based heating systems in existing buildings.
With a high water outlet temperature of up to 60ºC at 10ºC ambient, Ereba covers the full spectrum of heating and hot water requirements, and can be used with all types of radiators and underfloor heating systems.
The packaged system comes complete with an integrated hydraulic module, Class A variable-speed pump, and a built-in expansion tank. An automatic air purge system ensures it continues to operate efficiently without the need for manual intervention or frequent maintenance.
The variable speed inverter-controlled fan enables gradual soft-start ramp up to protect power supplies, plus a night mode for super-quiet operation when end users and neighbours are sleeping.
The electronic controller manages all operating parameters and allows multiple settings, including Time Clock control, Mode, and Day and Night functions, via the "Touch 'n' Go" setting.
Ereba's nerve centre is based on Intelligent Power Drive Unit (IPDU) hybrid inverter technology. This combines two electronic management logics: Pulse Amplitude Modulation (PAM) and Pulse Width Modulation (PWM) for optimised compressor operation in all conditions and minimal temperature fluctuation.
PAM: Pulse Amplitude Modulation of the direct current controls the compressor at maximum load conditions (start-up and peak load), increases the voltage at fixed frequency. The compressor works at high speed to rapidly achieve the desired temperature.
PWM: Pulse Width Modulation of direct current controls the compressor at partial load conditions, adjusting the frequency at fixed voltage. This enables the compressor speed to be fine-tuned to allow the system to deliver high level comfort, without temperature fluctuations, with outstanding efficiency.
Compressor power frequency is continuously and incrementally increased up to the maximum level. This ensures there are no current draw peaks in the start-up phase, and safe operation with a single-phase power supply even in large-capacity systems.
The full Ereba range includes nine models, five single-phase and four three-phase models.