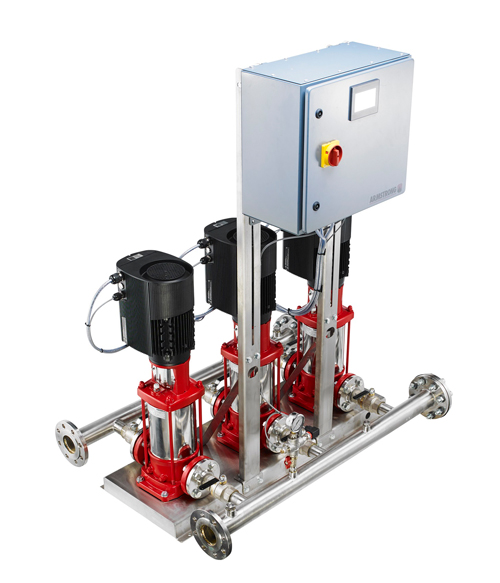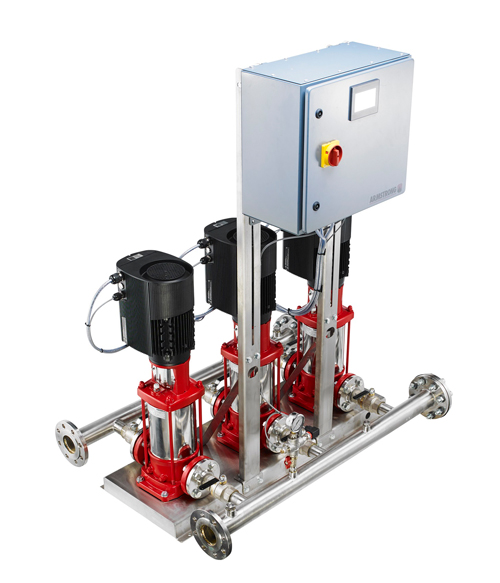 Armstrong Fluid Technology's new Design Envelope 6800G Boosters are easier to install and commission, save space in the plantroom, and offer outstanding energy efficient performance across a wider operating range than ever before.
Bringing together the benefits of Armstrong's Design Envelope control technology and high-efficiency IE5 rated motors, the new 6800G packaged booster range offers the contractor major advantages in installation savings and reduced commissioning time. In addition, the integrated variable speed intelligence embedded in the controller optimises energy efficiency throughout the booster's lifetime, delivering the building owner/occupier the best return on investment.
The new Armstrong Design Envelope 6800G Boosters address the water delivery challenges of high-rise buildings by combining Vertical Multi-stage pumps with advanced variable speed controls. Supplied fully-assembled and integrated, Armstrong 6800G packaged booster sets can be configured with two, three, four or five pumps to suit the application. Product selection is simple and quick, with purpose-designed online selection software, along with a return on investment calculator tool to help contractors quantify savings for their customers based on actual project data.
Off-site manufacture means that the packaged booster sets are fully-tested prior to delivery, for quick, trouble free installation and commissioning, with minimal wiring and mounting required on site. If design iterations occur during this process, the booster sets are capable of accommodating reasonable changes in operational demands, either during the design phase or in the future, without the expense of replacement, or a reduction in energy efficiency.