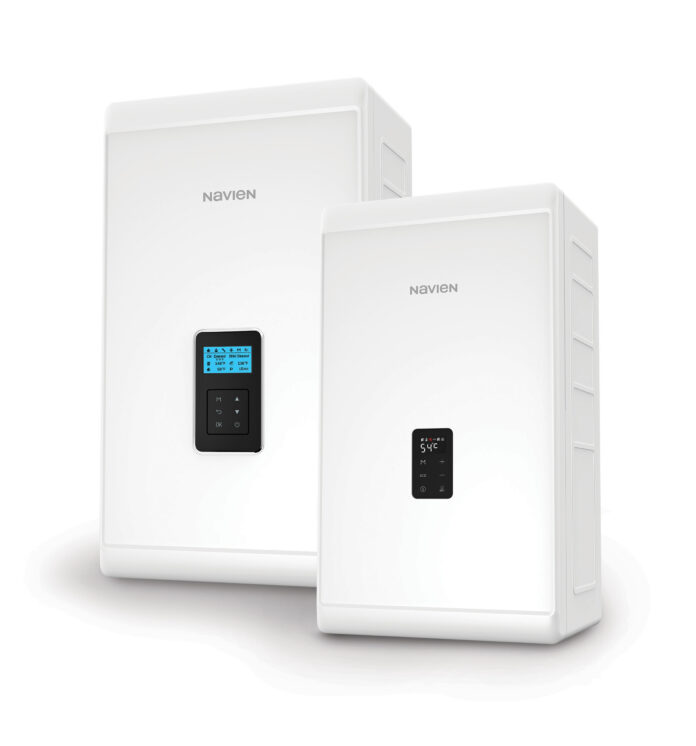 Hot on the heels of the successful launch of its NCB700 combi gas boiler, Navien has added to the NCB family with the introduction of its new high efficiency NCB500 and NCB300 models.
Able to fit inside a cupboard with ease due to a compact 280mm depth, both of these energy-saving boilers offer the same high-quality construction as the NCB700. Each boiler is available as a combi, while there are also system and regular versions of the NCB500. All models can achieve hot water outputs of up to 41kW while achieving an industry-leading ErP efficiency of 93%.
Thanks to Navien's state-of-the-art flow adjustment valve and auto mixing valve, the NCB500 is able to provide lashings of hot water, with no changes in DHW temperature or flow rate. The boiler also boasts a built-in, text-driven digital display panel; simple to program and use, it includes a two-channel timer and allows end users to monitor their energy usage with ease. The NCB500 is available in outputs of either 37kW or 41kW respectively and also benefits from a keyless filling link; as no key or hose is required, repressurising the heating system is easy for installers and homeowners alike.
The range is completed by the NCB300, which is a pared down version of its larger cousins, but still achieves exceptional levels of hot water performance, due to its high-quality construction and high-tech components. There are three sizes of NCB300 available, with DHW outputs of 28kW, 37kW and 41kW to choose from, plus each unit benefits from an LCD control panel for comprehensive management of heating and hot water temperatures.