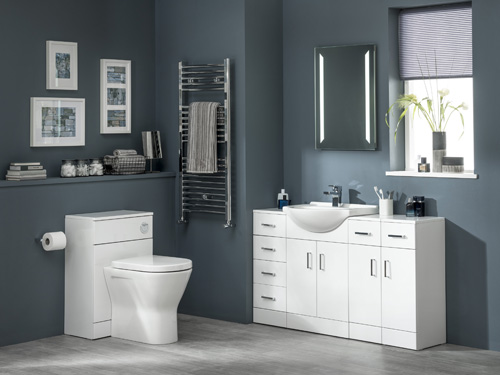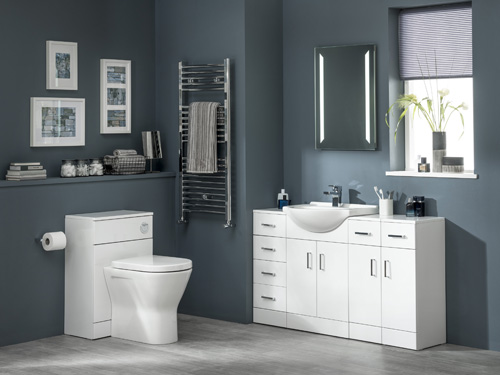 For 2017 Essential Bathrooms has expanded its portfolio with new additions such as furniture, towel warmers and baths. Essential Bathrooms is renowned for its quality and style and especially its competitive prices, all factors which have played a key part in assisting its customers to remain competitive.
To ensure the ranges continue to reflect current customer desires and to keep in line with market trends, Essential Bathrooms has discontinued its Gem furniture range and introduced Alaska as a replacement.
Alaska has a pure white, high gloss contemporary finish and features sleek square edge handles and square edge cabinets. The fine details really do give the furniture a clean sharp finish.
This new furniture offers a wide range of choice to complete the perfect bathroom including a back to wall unit and an option of sizes in basin units. The look can also be completed with its four drawer units or a combined drawer and cupboard unit. The range provides a perfect entry-level option without sacrificing style or quality.
To support the launch of the new furniture, eye-catching lifestyle room set shots have been produced. These images really highlight the beauty of the furniture and create a vision of how an ideal bathroom could look.
The finishing touches in a bathroom always create a huge impact on the final appeal of the completed bathroom project. To complement the new look, Essential Bathrooms has also introduced a range of new designer towel warmers for 2017, adding to its existing collection with a range of new deluxe and designer options.
Leo is a brand new towel warmer design with a unique, sleek modern finish, which is available in Chrome and Anthracite. Essential Bathrooms has also introduced new size extensions to some of its best-selling towel warmers – Capricorn, the traditional towel warmer, Taurus, and Electric Chrome. The popular colour, Anthracite, has also been introduced on four sizes of the straight towel warmer collection.
These towel warmers are a great multifunctional and attractive feature in any bathroom. They are easy to install and great for drying clothes and towels or heating robes ready for stepping out of the shower in comfort.
To complete the latest newcomers, the Kensington L shaped shower bath now comes in 1,500mm, 1,600mm and 1,800mm sizes. These additions reflect the popularity of the existing 1,700mm model, providing new options for customers to meet the needs of both compact and larger size bathrooms. The 1,500mm model, in particular, offers the luxury of a combined bath and dedicated shower area for the space restricted bathroom, rather than having to make the decision to have either a bath or shower.
These additional investments in new products by Essential Bathrooms offer even greater choice for retailers to provide superb value for money to their customers.