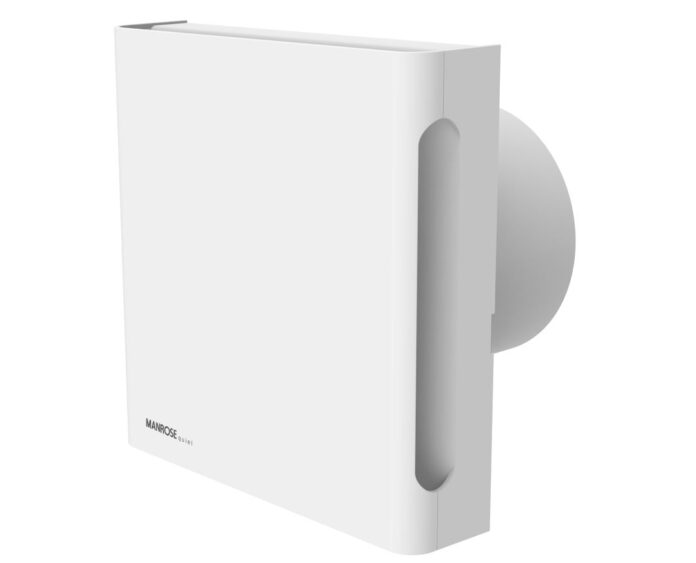 A recent National Noise Report from Quiet Mark found that more than half of adults want a quieter home. The Quiet Mark National Noise Report: Household & Workplace Pandemic-Recovery Survey also revealed a further 62% are drawn to quieter appliances, with two thirds of UK 18-34 year-olds willing to spend more on purchasing quiet appliances. This is good news for bathroom fans like Manrose's Quiet Fan X5 which offers ultra-quiet yet effective and efficient ventilation. Since its launch last year, the Quiet Fan X5 has been flying off the shelves due to its quiet operation, easy install, aesthetics, and environmental credentials – proving incredibly popular with wholesalers, electricians, and households alike.
When it comes to bathroom fans nobody wants to listen to a noisy fan while taking a bath or shower. The Quiet Fan X5, from British ventilation manufacturer Manrose, therefore has an incredibly quiet running volume as low as just 25dB(A), while offering an impressively high extraction rate of 90m³/hr. This means moisture laden air is removed to avoid condensation and mould while improving indoor air quality. And with energy prices soaring, the Quiet Fan X5's low energy motor with a maximum consumption of six watts and a low SFP of 0.24w/l/s is the ideal solution for energy-conscious households.
The Quiet Fan X5 is suitable for both wall and ceiling mounting while boasting an IPX5 rating meaning the fan can be safely installed in the splash zone without the need for a low voltage transformer so is ideal for bathrooms and shower rooms of all sizes. A range of control options also makes install easier with the Quiet Fan X5 offering basic, timer, humidistat and PIR options and comes complete with integral backdraught shutters and is double insulated so does not require an earth. This all adds up to making fitting the fan even easier, safer and more versatile.
The range complies with both Part F & L of the Building Regulations. Furthermore, the Manrose Quiet Fan X5 is available in an attractive tiled version or an open grille option, both of which will look good in any bathroom.