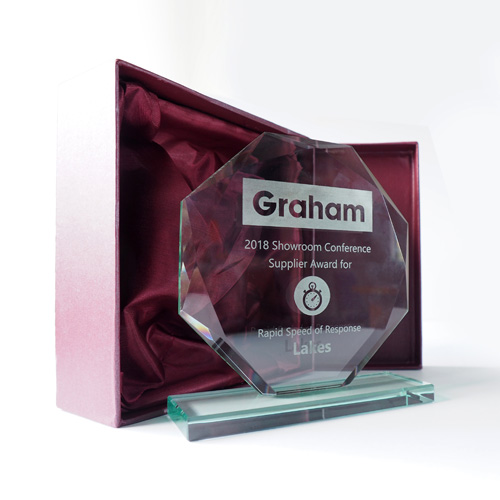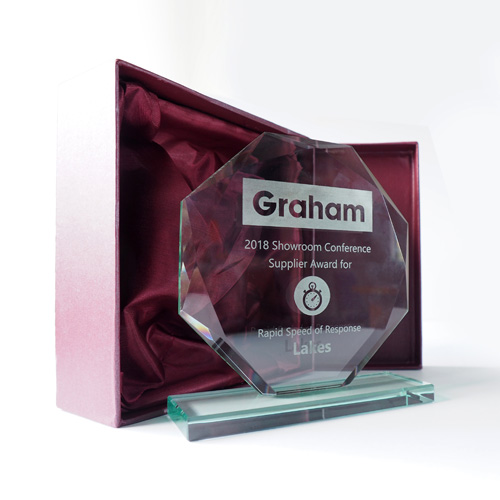 Lakes, the leading brand of innovative showering spaces, won the 'Rapid Speed of Response' award at the national Graham bathroom showroom conference in July.
The award is based on the votes of regional and national staff. The award was presented to Lakes by Graham's senior category manager (bathrooms), Lucy Barriball, and marketing director, Ian Kenny.
The 'Rapid Speed of Response' award recognises how quickly and effectively the Lakes team manage the whole sales process. The win underlines Lakes' commitment to excellent customer service, time and again.
This win is the second award Lakes has received from Graham in just six months. Last December Lakes won 'The Customer Intimacy Award' at Graham's annual conference.
Lakes has a long-standing reputation for top customer service, stock availability and speed of delivery, backed by a unique 'no quibble guarantee' for added customer reassurance.
Lakes was also first to standardise on PureVueHD 'low iron' glass and AllClear advanced glass technology across Island, Coastline and Classic Collections so customers get a better showering experience, and at no extra cost. They were also the first to apply AllClear technology to both sides of the glass, as standard.