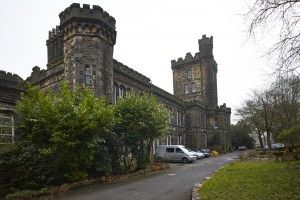 Manufacturer, Keston Boilers, has supplied a total of six 45kW Heat Only twin flue boilers and two Frame and Header Kits to Robinwood Activity Centres, which have been installed at both the Dobroyd Castle centre and The Old School centre, based in Todmorden, Lancashire.
Robinwood Activity Centres provide adventure and teamwork residential courses for primary school children aged seven-11 years, where groups typically get to experience 15 activities, including outdoor sports such as archery, canoeing and climbing, and indoor puzzle-solving challenges such as the 'Piranha Pool' and the Dungeon of Doom.
The previous floor standing boilers at both centres had been unreliable, which was a major issue as activity courses run all year round, so the heating system needed to be operational 24/7 to maintain a warm environment. This was particularly important, as children would frequently be returning from cold or wet outdoor activities. The requirement for a back up boiler was also specified for this reason.
Installer, David Wright, of Calder Valley Plumbing & Heating, fitted the Keston Heat Only Boilers and Frame and Header Kits at both sites. He said: "We specified the Keston boilers as we have worked with them on a number of projects and have always found them to be straightforward to install, with Keston's prefabricated Frame and Header Kit modules offering additional ease of installation. As well as being very reliable so we can 'fit and forget', these boilers also deliver impressive fuel efficiencies that reduce running costs for our customers.
"The extremely adaptable flue capabilities were also a key benefit for the installations at Robinwood Activity Centres, as the flue run needed to be over 6m long in both buildings."
Due to its specialised twin flue capabilities, Keston Heat Only boiler flues can be run horizontally from an elevation of 3.5° if required, and can also be extended up to 27 metres from the boiler for hassle-free installation, so the 6m requirement for the Robinwood Activity sites was easy to achieve.
Dobroyd Castle is a 19th century mansion set high up on the Todmorden moors and provides accommodation for up to 285 children. The three Heat Only boilers and Frame and Header Kit are located in an annexe block adjacent to the main building on the ground floor. The Old School, which opened in 1994, was formerly a Victorian primary school before being converted into a residential building, which now accommodates up to 78 children and their teachers. The plant room is located at basement level. In both instances, the compact size of the Keston Boilers and components for the Frame and Header Kits meant they were easy to manoeuvre and there were no issues with space, resulting in ease of installation in both plant rooms.
In addition to delivering two completely reliable heating systems with emergency boiler back-up if necessary, the two Keston boiler installations have also greatly reduced the energy use in each building, resulting in fewer emissions and much cheaper fuel bills for Robinwood Activity Centres to invest elsewhere.
The Keston Heat Only condensing boiler range includes 45kW and 55kW outputs and claims to be the only dedicated boiler on the market for domestic or light commercial applications that combines twin flue capabilities with a fully modulating Energy related Products approved pump built into the framework of the appliance. The Keston Heat-Only range is also supplied with integrated weather compensation and an outside sensor as standard. Weather compensation is instantly activated when the outside sensor is installed, creating a simple 'plug and play' solution with no intricate programming required.
Keston's boiler range for both domestic and light commercial applications, launched in 2013, includes system, combi and heat-only boilers, all of which incorporate twin flue capabilities that are adaptable, offering a solution for awkward installations. All boilers in the range offer a high SEDBUK efficiency rating, are Energy Saving Trust recommended and also feature on the Energy Technology List, qualifying them for inclusion in the government's Enhanced Capital Allowance scheme.