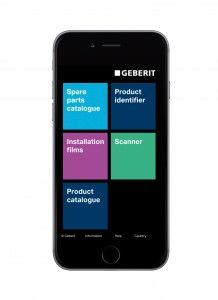 Tapping into a digital world, installers can now enjoy access to product details and installation instructions for Geberit products directly from their smartphone, with the launch of the Geberit ProApp.
Giving installers fast access to the information they need, when they need it, once downloaded the Geberit ProApp users can scan the barcode on the side of a Geberit product's box with their smartphone to find out full product details. The ProApp also links through to the company's full online product catalogue, giving installers up-to-the-minute product details and fitting instructions, even when they're on the move.
Putting paid to having to rummage around in the packaging for paper instructions, with the Geberit ProApp installers can get fast access to technical information and even click through to simple to follow installation videos, helping them to work more efficiently.
The Geberit ProApp also simplifies the process of ordering spare parts. Installers carrying out maintenance of a Geberit Duofix WC frame can now order spare parts in just a few short steps using the ProApp's Product Identifier. All they need do is identify the relevant product and this will bring up all the spare part details they need ahead of phoning the order through to their nearest Geberit stockist.
The Geberit ProApp is free to download from the App store, Google Play or by scanning the QR code on any Geberit ProApp promotional material.