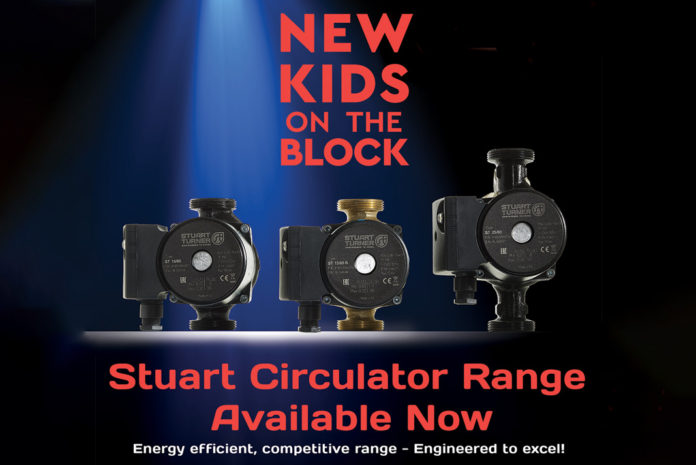 Stuart Turner continue to successfully diversify into new markets, building on their promise to 'power water for all applications' with their new range of circulator pumps. With an impressive EEI rating starting from 0.18 and with both fixed and proportional control, Stuart Turner now offer an engineered, electronically controlled, high efficiency circulator range for heating, hot water heating and air conditioning.
The new Stuart range of circulators are one of the most energy efficient models on the market. Utilising high efficiency, permanent magnet motor technology and ceramic bearings, the three models within the range provide enhanced energy efficiency, with each circulator offering three constant speed modes; low, medium or high or for even greater savings, three proportional pressure modes. This means the pump constantly monitors the system pressure and flow and adjusts according to system demand, ensuring optimum efficiency and minimum energy consumption.
The range is suitable for a wide variety of pump applications such as single and twin pipe heating systems and mixing loops. The ST 15/60 and ST 25/80 cast iron heating circulator models are designed to constantly circulate hot water within a closed loop system, offering a typical performance of 4.5 cubic metres per hour and up to an impressive 8 metre head. The ST 15/60 B bronze circulating pump is designed to constantly circulate hot water within a domestic system and offers a performance of up to 3.3 cubic metres per hour and up to 6 metres head.
Stuart circulators make the installers life easier too. Designed as a perfect replacement for any 130 or 180 port to port model currently in the market, they are a hassle free, easy retrofit replacement. The terminal box can be easily configured to suit the installation and the pump set up is easy too, simply scroll through the pre-configured options until the preferred setting is illuminated.
Stuart Circulators are continuously rated, CE compliant, manufactured from robust bronze or cast iron materials and as with all Stuart Turner product ranges, supplied with market leading guarantees, up to 5 years in the case of the cast iron heating variants. They are fully supported by their TechAssist team of technical experts.