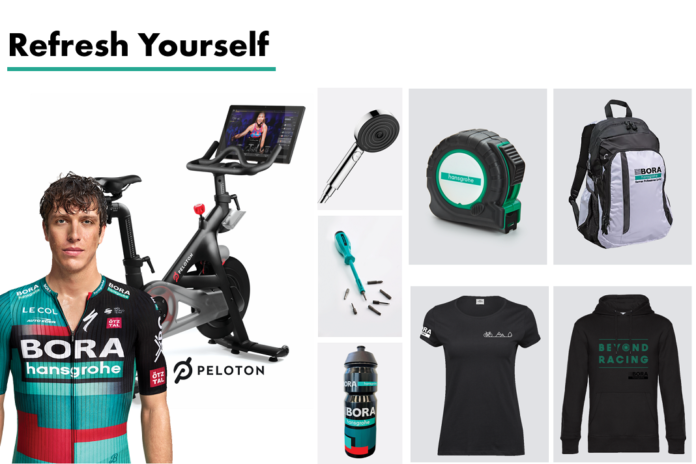 As the BORA-Hansgrohe professional cycling team gets ready to participate in the 2023 Tour de France, Hansgrohe has launched 'Refresh Yourself for Summer 2023' giving people the chance to win a Peloton bike.
According to a statement, installers who purchase selected Hansgrohe products bearing the Refresh Yourself sticker from now until the 31 July, will receive a BORA-Hansgrohe water bottle at the point of purchase and an opportunity to enter the Refresh Yourself competition via the dedicated website for installers.
Each £10 spent gives one entry, and installers need to upload their receipt using the Refresh Yourself page on the company's website. The competition closes on 31 July, where one winner will win a Peloton Bike and five runners up will receive a jam-packed BORA-Hansgrohe goody bag and the latest Pulsify hand shower.
Jay Phillips, managing director of Hansgrohe UK and Ireland, said: "The Hansgrohe brand stands for unforgettable moments with water and a constant drive to innovate and improve.
"Seeking new ways to better performance also applies to top athletes. In 2017 the BORA-Hansgrohe cycling team was granted World Team status by the UCI and we are incredibly proud of all our athletes who participate in major race events such as the Tour de France.
"Cycling is a big part of Hansgrohe Group, and we are delighted to support the growing interest of cycling here in the UK. The Refresh Yourself campaign should help to build on this momentum and reward our customers for choosing Hansgrohe for their bathroom installations."
Hansgrohe have stated that the competition is applicable to all installers who purchase any of the following best-selling Hansgrohe products bearing a Refresh Yourself sticker between 1 June and 31 July 2023:
Crometta S 240 1jet Showerpipe (27267000)
Crometta Vario Combi Set (27812400)
Isiflex Shower Hose 160cm (28276000)
Pulsify Select S 105 hand shower 3jet relaxation (24110000)
Rebris S basin mixer 110 CoolStart without waste (72520000)
Rebris S rim mounted bath mixer (72446000)
Rebris S rim mounted bath/shower mixer (72447000)