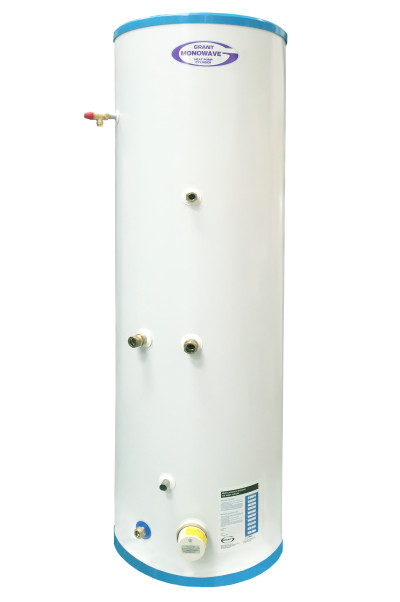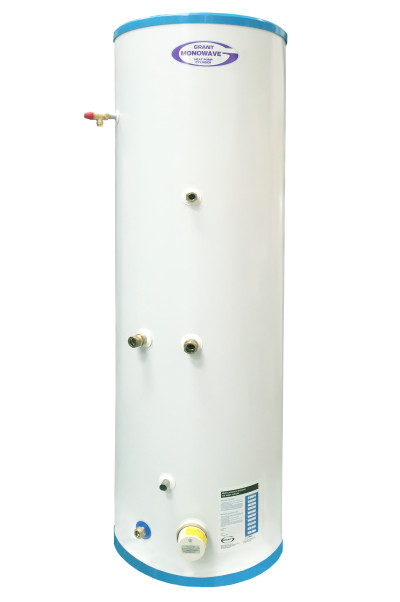 Grant has introduced a new ErP A-rated cylinder to its high efficiency heat pump cylinder range. This new Grant MonoWave 200 litre model is designed to maintain temperature for longer, due to its higher levels of insulation.
The new Grant MonoWave A-rated heat pump cylinder is a single coil indirect model offering incredibly high energy efficiency for homeowners. When installed alongside the Aerona³, a combined energy efficiency rating of A++ (heating) and A (hot water) is achieved. Furthermore, when installed as part of package, for example with an Aerona³ heat pump and a Grant Solar Thermal kit, an ErP package rating of A++ can be reached.
To complement the Aerona³, Grant now has a total of 13 cylinders within its Wave product range which are specifically matched to the inverter driven heat pumps. Being manufactured from duplex stainless steel, the cylinders have a larger primary coil, which allows for the heat to be transferred quickly and effectively. With indirect single coil and twin coil versions available, Grant's heat pump cylinder range allows for easy installation for engineers, while also offering the option of combining an additional heat source.
For further details about Grant's range of Wave cylinders and thermal stores, please visit: www.grantuk.com