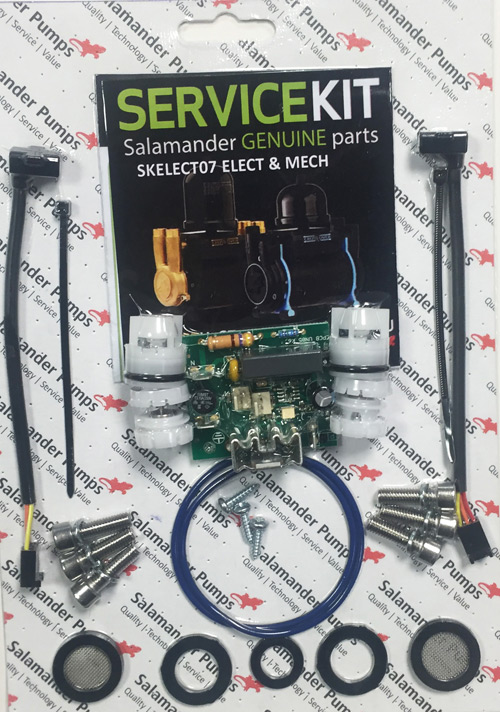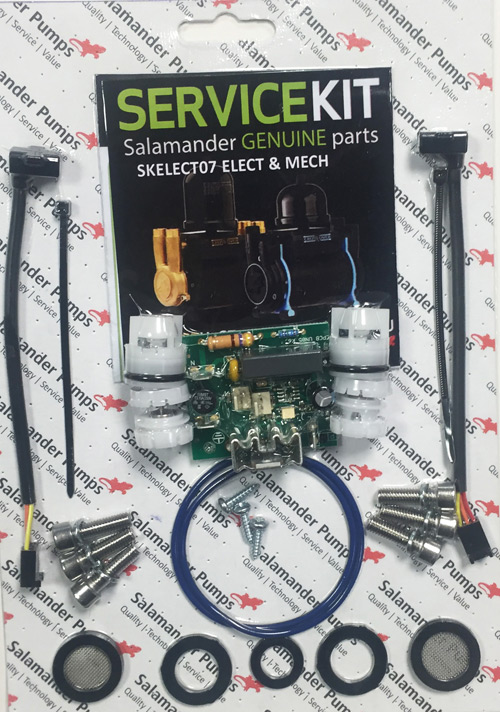 Salamander Pumps is offering a range of genuine spare parts and accessories for some of its pumps through its own website www.salamanderpumps.co.uk and approved online stockists in the UK and Republic of Ireland.
The service kits will contain genuine electrical and mechanical parts for the current Salamander range (as well as end of line CT and Force pumps), all at competitive prices. By providing these packs, Salamander can guarantee that installers will be able to offer a repair service using parts that are tested and approved to work with a Salamander pump. The parts are reliable and safe, meeting the very stringent quality standards set by the leading shower pump brand.
The new Salamander spares offer, together with the PumpWise technical support team, gives installers further peace of mind that they are dealing with a responsible manufacturer, committed to the highest standards of customer care and after sales support.
Chris Vallance, Salamander's sales and marketing director, said: "Installers continue to be a key focus for us. We've talked to a lot of them over the last year, specifically to gain further insight into their needs which we use to inform our continuous improvement strategy. Availability of genuine, compliant, safe spares has featured consistently in these conversations, which, quite simply, is why we are doing it."
A dedicated spares website accessed through the main Salamander Pumps website will make the identification of the right pack really easy with search options available by serial number, pump name and model or the spares kit name.
Also available online will be a range of accessories including the new Salamander pump mat, S flange, AV couplers, replacement pressure vessels, anti-vibration pump feet and body o rings.
Supporting the spares offering will be a selection of 'How to service' videos along with fitting instructions. Videos will become available over 2016 to help towards a trouble free customer experience if and when maintenance is required.
Visit shop.salamanderpumps.co.uk to take a look at the Salamander Spares shop.