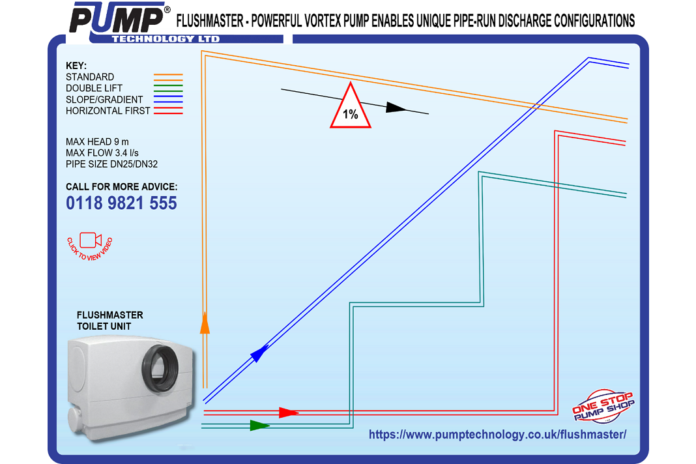 When faced with installing a new toilet in a difficult location with no gravity drainage and a convoluted discharge pipe run and the industries standard macerator toilet pump just can't handle the job – don't worry there is a solution. The FlushMaster from Pump Technology Ltd. will handle this installation with ease.
The submersible toilet waste pump, which is fitted with powerful motor and free flow vortex impeller, is designed to generate the high pumping head and flow needed to overcome the long and complex pipe runs that sometimes simply cannot be avoided.
Additionally, it features deliberately large clearances between pump inlet and tank floor making it considerably more tolerant of user abuse from foreign objects clogging.
In the event of a problem, the FlushMaster features an integral acoustic alarm with the option of volt free contacts for coupling with a BMS to indicate maintenance is required.
To unclog the toilet pump, simply insert a screwdriver into the top of the motor/pump shaft and reverse the direction of rotation. The clogged item should dislodge and fall to the bottom of the tank. For more stubborn blockages simply undo two holding screws and remove the pump clear of the tank, which can stay in place. Any foreign objects can now be clearly seen and removed.
For reliably discharging waste from a single toilet, bidet, washbasin and shower, via convoluted pipe runs with easy maintenance the Pump Technology Ltd. FlushMaster is actually the only solution.