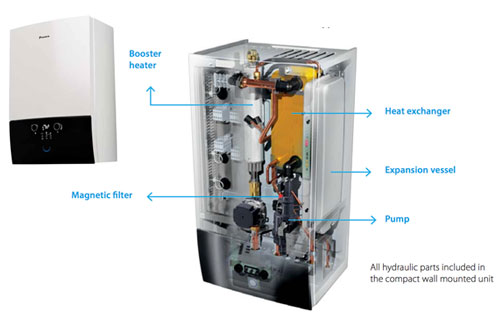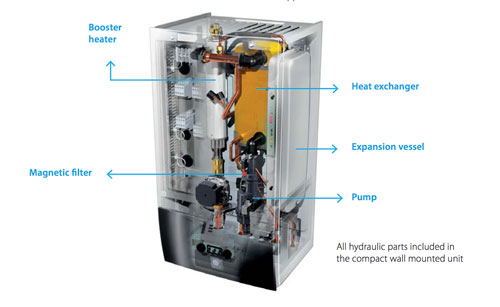 Daikin has launched its new-generation Daikin Altherma 3 in the UK – the first ever air to water heat pump powered by low global warming potential (GWP) refrigerant R32.
The highly efficient Daikin Altherma 3 range is A+++ rated, with a heating efficiency of 5.4 COP at 7-35ºC, so it can deliver reliable operation with temperatures of up to 65ºC at high efficiency, even in the coldest weather.
Daikin's advanced Bluevolution technology combines highly efficient compressors with the energy efficient and environmentally-friendly refrigerant R32, ensuring the Daikin Altherma 3 delivers exceptional performance.
Ideally suited to new build, refurbishment and low energy houses, and for use with both underfloor heating and radiators, Daikin Altherma 3 is stylishly designed and compact in size, while delivering reduced running costs for end users.
The Daikin Altherma 3 split wall mounted unit is a flexible system and includes an optional connection to deliver domestic hot water. Available in 4, 6 and 8 kW versions, it can be combined with a separate domestic hot water tank of up to 500 litres, with or without solar support.
Easy to install, the Daikin Altherma 3 is delivered ready to work with all key hydraulic elements factory mounted, with no third party components required. The outdoor unit is tested and charged with refrigerant, reducing installation time further. Requiring almost no side clearance and with the PCB board and hydraulic components located to the front for easy access, it makes a particularly good option where space is limited. Furthermore, all piping can be accessed at the top of the unit.
Using an intuitive Controller Configuration Wizard, the system can be commissioned quickly and remotely so settings can be uploaded to the unit, post installation.
Its weather-dependent set-point controls and inverter compressors maximise the system's efficiency, ensuring consistent room temperatures at all times.
The smart comfort controller also provides the end user with a convenient way to control the heating system via their smart device. Using the Daikin heating app, the homeowner can view, monitor and adjust various settings to meet their requirements.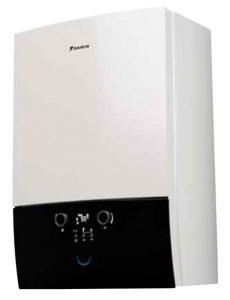 Meanwhile, Daikin UK has launched a bid to become a serious player in the highly competitive domestic heating market with the release of a unique new Daikin gas condensing boiler.
The new Daikin D2CND gas condensing boiler combines ultra-compact dimensions, quality components, smart control and contemporary style, to deliver a game-changing gas condensing boiler from a world-leading innovator.
Available as a combi or with cylinder connection to meet all hot water demands, the D2CND gas condensing boiler delivers an A rating for heating and A+++ for hot water when combined with solar thermal products.
The D2CND is designed with installers in mind, offering a small footprint, low lift weight and easy connections for simple installation. For added flexibility, the adaptive gas valve works with either natural gas or LPG and flue runs of up to 11m can be achieved.
The boiler is available in 24, 28 and 35 kW models and has a compact size of just 400 x 255 x 580mm for the 24kW model and 450 x 288 x 666mm for the 28 and 35kW models.
The IPX5D standard and compact dimensions allow the gas condensing boiler to be installed in various rooms such as the kitchen, bathroom or inside cupboard units.
For ease of maintenance all components are accessible from the front and the side panels are removable for additional space, if required.
Ensuring optimal comfort in the property, Daikin's OpenTherm control system enables communication between the boiler and thermostat at all times for precision control, while the Daikin Eye continually monitors the performance of the combi boiler for optimal reliability.