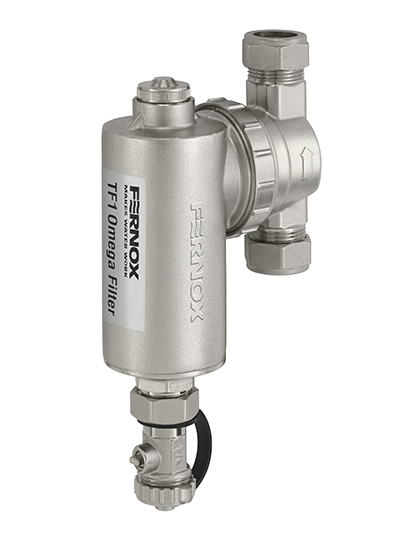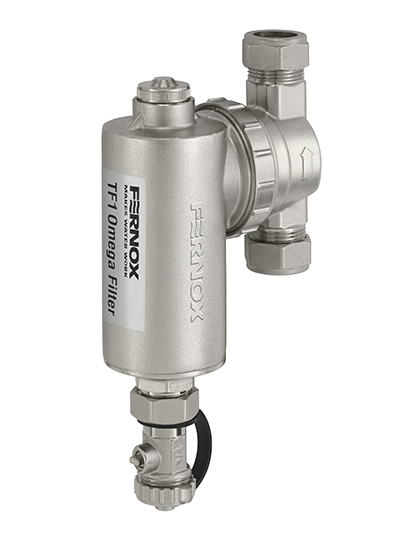 This summer, Fernox will be launching its first nickel-plated, brass in-line system filter designed for domestic heating systems. Small, smart and simple to install and clean, the high performance TF1 Omega Filter offers an excellent collection capacity of magnetic and non-magnetic debris, helping to maximise boiler protection and contribute towards overall system efficiency.
The TF1 Omega Filter meets the highest quality specifications and comes with an impressive 25-year body parts warranty. For more than 50 years, Fernox has introduced innovative water treatment solutions to the plumbing and heating industry. This latest addition to the award-winning TF1 range reflects the company's heritage as a customer focused business with an unrivalled reputation for technical expertise.
Precision engineered, the TF1 Omega Filter combines the strength of a powerful, bespoke neodymium magnet with unique Hydronic Particle Separation technology. Small, yet robust, this next generation filter is suitable for both new and existing installations. The TF1 Omega Filter is able to fit onto horizontal and vertical, 22mm and 28mm pipework and can be positioned at a 45° angle – making it easy to install even in confined or awkward spaces.
Due to its unique design, the cleaning of the TF1 Omega Filter is a fast and mess-free process and can be done in situ, saving time on-site. This innovative product offers the additional benefit of dosing water treatment chemicals, via the filter, in less than 30 seconds using the Fernox Express range.
The TF1 Omega Filter is designed not only to speed up installation and cleaning time, but to deliver ultimate flexibility and ease of use. There are two product options available, depending on the installer's preference. The TF1 Omega Filter is supplied with quality valves or slip socket connection – both of which are suitable for 22mm or 28mm pipework.
The TF1 Omega Filter will be available soon in all leading plumbers' merchants. For more information on the complete range of Fernox products, visit: www.fernox.com.