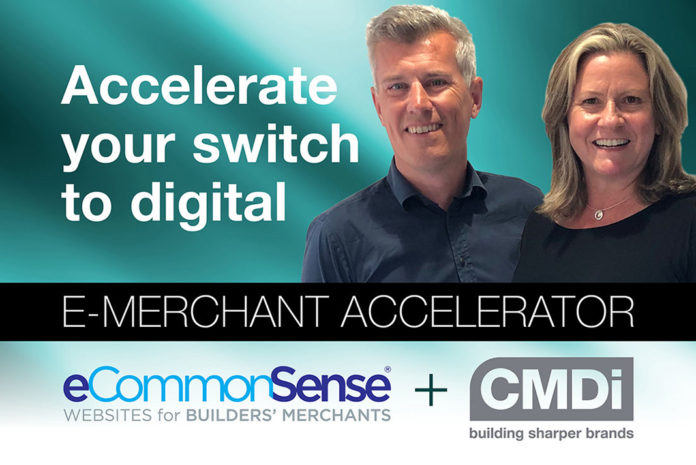 The UK's leading strategic brand and marketing agency for the built environment, CMDi has partnered with builders' merchants website specialists eCommonSense to develop E-Merchant Accelerator – a cost-effective digital change programme designed specifically for merchants to accelerate their digital marketing and future-proof their business.
"Traditional builders' merchants aren't built to last," says CMDi's Managing Director, Dianne Lucas. "Today's digital-savvy buyers demand the convenience online services bring; if merchants aren't e-relevant they risk becoming irrelevant. E-Merchant Accelerator is the only solution in the market proven to accelerate their switch to digital trading and marketing."
E-Merchant Accelerator makes it easy for builders' merchants to make the switch by integrating two essential and complementary services: a world-class eCommerce trading platform (from eCommonSense) and a proven e-merchant marketing strategy (from CMDi) to maximise investment in the platform.
The eCommerce website enables merchants to offer the online services their customers demand through an online trading platform which integrates seamlessly with their back office. The e-merchant strategy maximises investment in the website trading platform, with a complete digital marketing and communication strategy: from brand and customer experience review to a full digital and offline marketing toolkit.
"Whatever stage of digital transformation a merchant business may be at," says eCommonSense Managing Director Andy Scothern, "E-Merchant Accelerator will get you there faster."
E-Merchant Accelerator is supported by the Builders Merchants Federation (BMF). CEO John Newcomb describes the programme as "a vital tool to help our members get future fit fast".