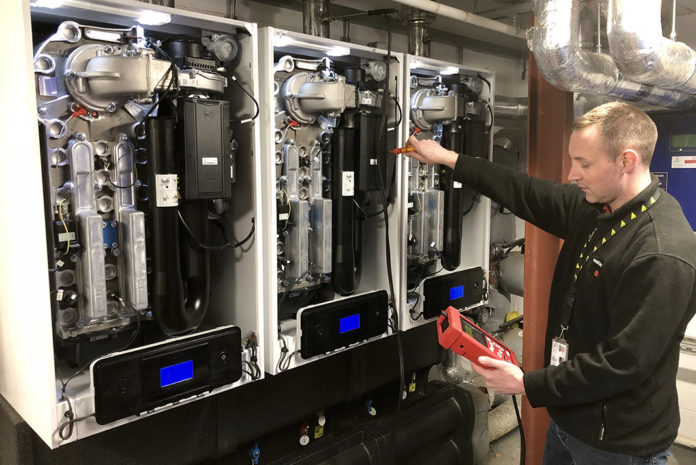 CIPHE member David Gammage, senior service engineer for Watkins, shares his heating and plumbing career experiences with HPM readers.
HOW DID YOU START YOUR CAREER?
I left school at 16 and went straight into a plumbing and heating apprenticeship to get my NVQ level two and three at Croydon College. I am a third-generation plumber and worked with my father while training, splitting my time between working with him and learning at college. It was a great experience and I stayed working with my father for 12 years.
WHAT DOES YOUR CURRENT ROLE ENTAIL?
I am now working as a senior service engineer for Watkins, a leading integrated services provider. I joined Watkins around six years ago and have enjoyed a varied career covering both domestic and commercial plumbing and heating projects. Furthermore, as well as being the appointed person for domestic gas for the company I also manage commission and quality control for our clients, which involves conducting site audits to ensure that installations and maintenance works are completed to the correct standard.
WHEN DID YOU BECOME A MEMBER OF THE CIPHE?
I joined the CIPHE as a full member (MCIPHE) around two years ago. For a while I was considering it, but the main motivation to join for me was the desire to become more involved with the designing of more complexed systems and to dedicate more time to my technical career progression. The institute is devoted to professionalism and raising standards through education by supporting professionals like me to achieve their ambitions, so it was a no brainer to get in touch and fi nd out more. When speaking with the CIPHE team I realised that a lot of their values align with what I am trying to achieve. I now know that I want to eventually work my way to fellow membership (FCIPHE) status.
HOW IMPORTANT IS CONTINUING PROFESSIONAL DEVELOPMENT (CPD) TO YOU?
Since becoming a member of the CIPHE, I was delighted to become EngTech registered. I am very proud of the fact that I have achieved Master Plumber certificate status and completed my NVQ Level four too. All of this takes time and commitment but it is so rewarding to have that professional recognition and to be able to prove my competency as a professional engineer. In the future, I hope to achieve Incorporated Engineer status, although Chartered Engineer is my ultimate goal.
WHAT DO YOU ENJOY THE MOST AND THE LEAST ABOUT OUR INDUSTRY?
Working with new technology helps to keep me on my toes and engaged. There is a lot of change that goes on, be it legislative or via new product trends, but this variety is what keeps things interesting. If I could change something about our industry it would definitely be more regulation and awareness when it comes to water safety related topics like scalding. Ultimately, I'd like to see more properly designed, commissioned and installed systems. Having been involved in the industry for 18 years I have come across poor workmanship from time to time, this has made me passionate about getting things right which is why I'm striving to help implement change within the industry.