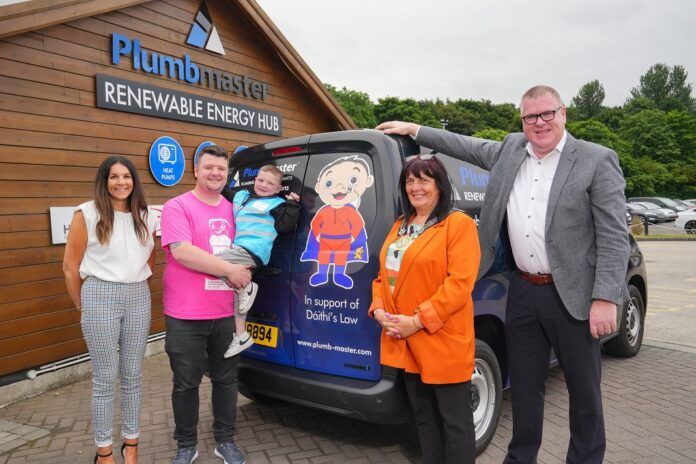 Plumbmaster has acknowledged its support for organ donation campaign Dáithí's Law, unveiling a wrapped vehicle to commemorate this landmark achievement.
Six-year-old Dáithí, who was born with hypoplastic left heart syndrome has campaigned tirelessly for a change in the Organ Donation Laws in Northern Ireland. The Organ and Tissue Donation (Deemed Consent) legislation, also called Dáithí's Law, came into effect earlier this year, changing the way consent for organ donation is granted in Northern Ireland.
Eamonn McCarthy, director at Plumbmaster, said: "At Plumbmaster, we firmly believe in supporting local causes and campaigns that make a tangible difference.
"Dáithí's journey and unwavering dedication has touched the hearts of many, and we are immensely proud to unveil this vehicle, symbolising our solidarity with Dáithí and commitment to raising awareness about the importance of organ donation."
The new vehicle, which features Dáithí's now famous caricature, was unveiled by Dáithí at a launch event which took place at Plumbmaster's Newry-based Renewable Energy Hub.
Eamonn added: "It was brilliant to be able to welcome Dáithí, his parents and numerous local figures to our Renewable Energy Hub to unveil this vehicle and highlight Dáithí's truly remarkable achievements.
"We have no doubt that Dáithí will continue to inspire those around him and are immensely proud to support his campaign."
Renewable energy solutions firm Plumbmaster is part of the Haldane Group and has branches across Northern Ireland and two on the Isle of Man.