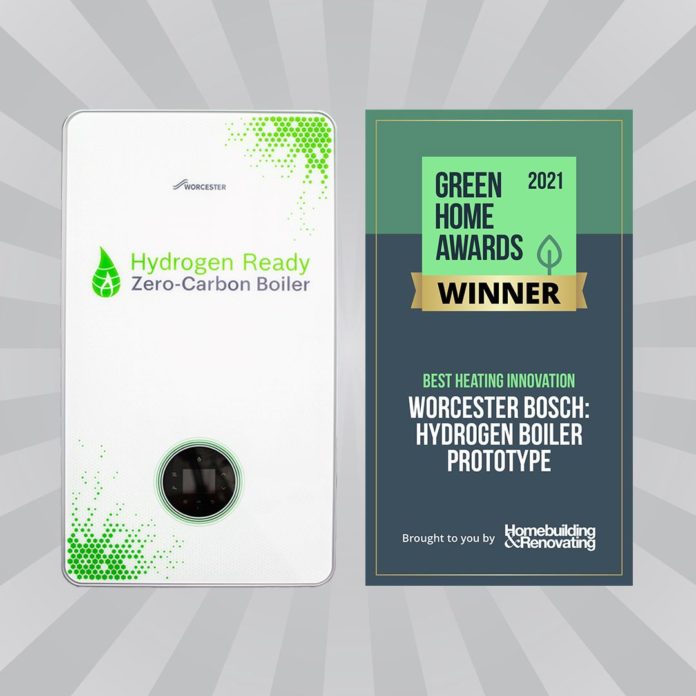 Worcester Bosch has announced that its hydrogen ready boiler prototype has won the award for Best Heating Innovation at the first ever Green Home Awards.
Unveiled in early 2020, the 100% hydrogen ready prototype has been pivotal in a number of ongoing high-profile trials and demonstrations including the 'HyStreet' project in Northumberland and the more recent 'Hydrogen House' demonstration in Gateshead.
The Worcester Bosch boiler can run on natural gas until hydrogen becomes available and then converted to run on hydrogen with just two or three components, the company said.
Martyn Bridges, director of technical communication & product management at Worcester Bosch, said: "Since we opened our hydrogen lab in 2017, our research and development team have been hard at work to creating a hydrogen ready prototype that can be used by the masses and help meet our net zero 2050 targets. The fact that this prototype has been recognised as a key innovator towards green housing is testament to the amazing work and commitment they've put in over the years.
"We do believe that our hydrogen-ready prototype will help pave the way for a hydrogen future in the UK, ensuring that homeowners continue to receive the heating and hot water they need, with zero carbon offset to the environment."