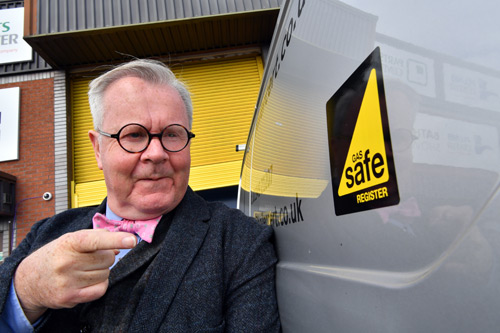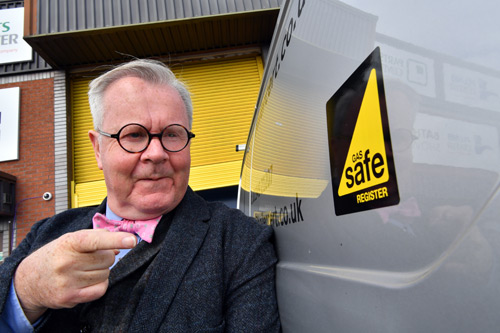 To support Gas Safety Week 2017, a team of industry advocates toured Wolseley Plumb Center branches in a Vaillant demo van, with a giant Gas Safe card in tow.
The road trip team consisted of Peter Booth, Heating Installer of the Year (aka @PBPlumber); Tim Pollard, head of renewables at Wolseley; Simon Whysall, sales director at Vaillant; and the industry's mysterious figure that goes by the name of @GasManGod on Twitter.
Last year, the #RegardTheCard campaign launched on Twitter to raise more awareness of the Gas Safe card and the importance of it. This year the road trip team went to Wolseley Plumb Center branches in Ilkeston, Nottingham, Mansfield, Tamworth, Burton and Derby.
Peter said: "The welcome we received in branches was great. It made me feel privileged to be encouraging my peers to promote their skills to homeowners. A skill that only they can do legally and should be commended for."
During the tour, Wolseley Plumb Center quizzed installers on whether they think homeowners are aware of the risks of using an unregistered gas engineer, to which more than half of respondents on the road trip said "not aware".
Worryingly, 87.5% of people asked, said they hardly ever get asked to see their Gas Safe card, and the remaining 12.5% said only monthly. A quarter of people asked, said they correct poor workmanship and disaster jobs daily! The team also heard horror stories of uncovering homemade boilers, and incorrect or corroded flues.
Simon said: "The Gas Safety Week initiative is really important for awareness for both consumers and installers. We came up with the idea for a road trip as we felt that meeting with and talking to installers directly about gas safety is invaluable and using our social media platform to promote the message.
"It was great to meet so many installers who are really passionate and conscientious about what they do, and how they proudly comply with gas safety best practice and regard the card. The fact that we also had a laugh with the gas engineers and counter staff that we met was a huge bonus, and gave us a great feeling about the industry we work in."
Tim added: "Gas Safety is not an option, it is a necessity and the only people who can assure that outcome are Gas Safe registered installers. The joyous blend of branch visits and outbound calling to installers was both great fun and highly effective in raising the profile of important issues. Personally, I would love this to become an annual pilgrimage!"
Gas Man God, who remains anonymous, added: "Let Us give thanks and praise to Thy Holy Installer community for helping us raise the profile of Gas Safety. Thou can expect bigger, better and Holier things next year! Amen!"