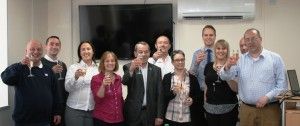 Trade-only plumbing and heating merchant, Williams & Co, has been acquired from the Williams family by its management team and staff for an undisclosed sum.
Founder Mick Williams retains a minority share, and will continue as non-executive chairman after the buyout, which was finalised on April 23.
A consortium of management and staff, led by long standing executive directors, Ray Stafford and Rachel Moore, put the successful bid together, supported by Nat West and Royal Bank of Scotland who have structured a flexible finance facility secured on receivables and inventory.
Professional advice has been provided by Taylor Cocks (accountant) and Quar & Co (solicitor). The consideration includes a mix of cash, equity and loan notes, ensuring that the business retains ample resources to maintain its aggressive trading style and expansion plans.
Mick said: "After four decades at the helm, there was always going to be a moment when I took a less active role, and I am delighted that this solution permits the company to retain its unique character and values."
Managing director, Ray, added: "Rachel and I are overwhelmed by the incredible buy in from the management team and staff. Some 62% of the staff have invested nearly half a million pounds of their own money to own a slice of their future and demonstrate their commitment to the business.
"It's a huge expression of support and belief from everyone involved. Words can't express how proud we are to lead such a fired-up team, or how fortunate we are to retain Mick's matchless experience in the boardroom."