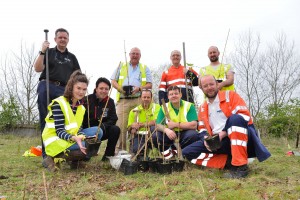 Employees from Saint Gobain PAM have planted 350 native British trees and shrubs to establish an anniversary woodland at its Telford site as part of the company's celebrations for its 350th year in business.
The project to establish a typical British woodland and habitat for wildlife is being organised by the company in conjunction with the Shropshire Wildlife Trust and the Business Environmental Support Scheme for Telford (BESST).
A total of nine different species of trees and shrubs are being planted in two areas on the site and will include some native trees that are under threat, such as a new disease resistant strain of Elm.
Richard Summers, environmental controller at Saint Gobain PAM Telford, said: "Saint Gobain has always taken its commitment to the environment very seriously, signing up to initiatives such as the Infrastructure Carbon Review for example, and this is another way of demonstrating this.
"We are proud to have been in business for 350 years, so establishing a woodland and helping secure the future of native species such as Elm for future generations to enjoy is very appropriate.
"This project goes beyond simply planting trees in that we are establishing a bio diverse environment where all sorts of wildlife can flourish. As part of this project employees attended a woodland management training session with the Shropshire Wildlife trust to help them identify different species and learn some skills such as coppicing for the future."
The nine species of trees and shrubs planted by Saint Gobain PAM employees at its Telford site were: Wych Elm, Ash, Oak, Rowan, Black Thorn, Dogwood, Guelder Rose, Hawthorn and Hazel.
Employees planted the trees and shrubs in two areas; as a line running along an embankment next to the M54 motorway slip road and to form a small kidney shaped spinney that will face an existing area of trees.  The company is hoping that the new areas will create a habitat for small foraging mammal as well as birds and bats.