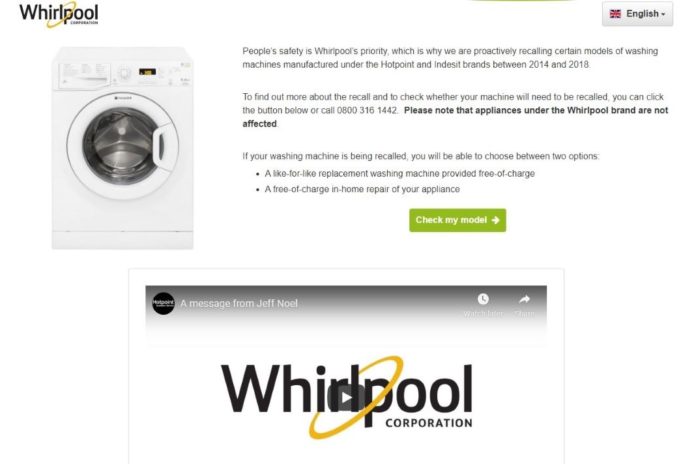 Whirlpool has confirmed finding low risks associated with certain Hotpoint and Indesit washing machines, which will be recalled from January.
The full list of affected models, which will be either replaced or recalled, can be found here.
The company said the safety issue concerns the door lock system on certain washing machines. When the heating element in the washing machine is activated, in very rare cases a component in the door lock system can overheat, which, depending on product features, can pose a risk of fire. No serious injuries have been reported, it added.
"This issue was identified by Whirlpool's safety team, as part of the constant and rigorous monitoring of the quality and safety of all the company's products.
"Whirlpool proactively notified the Office for Product Safety and Standards (OPSS) – the UK product safety regulator – of the situation and committed to conducting a nationwide product recall. Whirlpool continues to cooperate fully with the OPSS through regular information updates.
"Preparing for a recall of this scale is a complex operation and Whirlpool is working tirelessly to ensure it is ready to start offering replacements or repairs to its customers from January," a statement added.
Whirlpool has doubled its call centre team to 800 customer service agents, increasing production at its five washing machine factories and increasing its engineer workforce to 1,100 and providing specialist training on the in-home modification.
"We sincerely apologise for the inconvenience and concern this may cause to our customers, particularly over the Christmas period, but we hope people will understand that we are taking action because their safety is our top priority," the statement added.