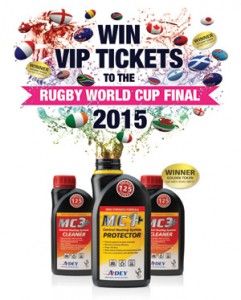 Installers are in with a chance of winning VIP hospitality tickets to the Rugby World Cup final thanks to ADEY Professional Heating Solutions.
From June 1 until September 30, installers purchasing either a 500ml bottle of MC1+ Protector or MC3+ Cleaner will need to keep their eyes peeled for five golden tokens hidden beneath the caps. Each token wins two VIP hospitality tickets to the final, or alternatively, tickets to the semi-finals or quarter-finals.
To support the promotion further, a monthly prize draw will also take place until September, with a range of Rugby World Cup merchandise including an official 20 Nations rugby shirt and ADEY products on offer.
ADEY's marketing director, Haimish Mead, said: "The heating industry has a lot of rugby followers and the Rugby World Cup is the biggest sporting event of the year, attracting the best teams and players from all over the world. So, we're delighted to be giving installers the chance of VIP hospitality tickets to the final itself and four of the other biggest matches at Twickenham in October.
"It's a bit of fun, but with tickets for this amazing sporting spectacle proving difficult to get your hands on, we wanted to give installers a chance to go the finals and hopefully watch England repeat their 2003 success on home soil."
If you're lucky enough to spot a golden token when opening your next bottle of MC+ chemicals, call ADEY on: 01242 546717 to register your prize claim.