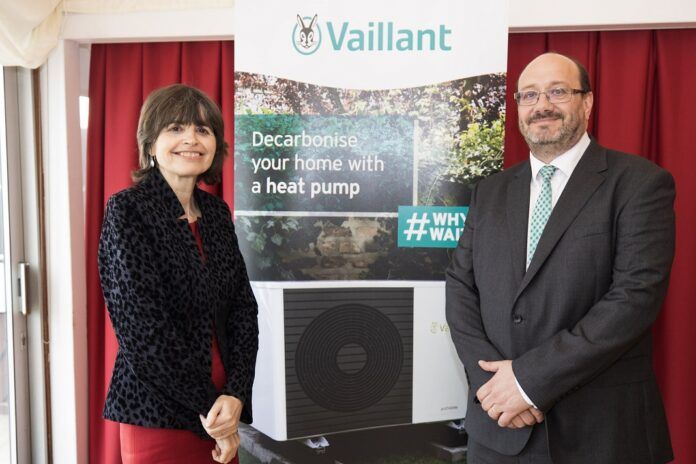 The findings of Valliant's installer survey report were discussed in the Cholmondeley Room at the House of Lords last month. The report looks into attitudes towards heat pump training and for the launch of Vaillant Aspire, the new learning pathway designed to upskill heating engineers to fit heat pumps.
The event, Aspiring to a Green Future, was hosted by Baroness Parminter, chair of the Environment and Climate Change Committee, who was joined by Dr Alan Whitehead MP, Lord Callanan and Vaillant's director of technologies and training, Mark Wilkins.
Mark presented the key findings of Vaillant's recent installer survey, which helped to develop the Aspire learning pathway.
Vaillant surveyed more than 1,100 installers to get 'a deeper understanding of their barriers and motivators behind reskilling to install heat pumps', a statement said. Encouragingly, the majority of those who took part in the survey recognised a need to train, with 87% of installers answering 'yes' or 'maybe' when asked if they were interested in undertaking air source heat pump training in the next 12 months.
The top three motivators of these installers looking to undertake heat pump training were future-proofing their business or career development, the benefits for the environment by supporting the net zero agenda, and personal financial benefits from installing a diverse range of heating technologies.
Mark said: "It's clear that the target of installing 600K heat pumps by 2028 will be a significant challenge, and part of that challenge is building a community of expert installers. Vaillant estimates that to achieve this target we would need 40,000 installers working full-time on heat pumps only.
"However, as most installers will also still be servicing and maintaining gas boilers at least in the short to medium term, Vaillant estimates up to 100K installers will need to be trained to meet the 600K heat pump target. The launch of Aspire will be a significant step in achieving this goal, to ensure that consumers can find appropriately skilled installers for heat pump installations, as well as traditional heating systems."
Out of the 994 installers surveyed by Vaillant who expressed an interest in upskilling, 55% felt that they would prefer 'entirely in-person training' when it came to air source heat pumps, whilst 'a combination of in-person and online' was preferred by 40% of those surveyed.
Shadow Minister for Climate Change and Net Zero, Dr Alan Whitehead, also welcomed the launch of Aspire as a 'robust response' to the challenges in rolling out heat pumps in the UK. Making it clear that the UK needs to be committed to supporting the deployment of heat pumps in the short and medium term, he stated that heat pumps are 'crucial' to the decarbonisation of domestic heating.
He added: "Making heat pumps core to the net zero agenda was an important first step, however we now need to look at what the key blockers to progress are. This includes the lack of qualified installers available to install them; the cost of heat pumps which is something we can look to address through the Boiler Upgrade Scheme; and finally, availability of the product itself.
"The scaling-up of heat pump production here in the UK is vital to ensuring security of supply and meeting domestic demand."