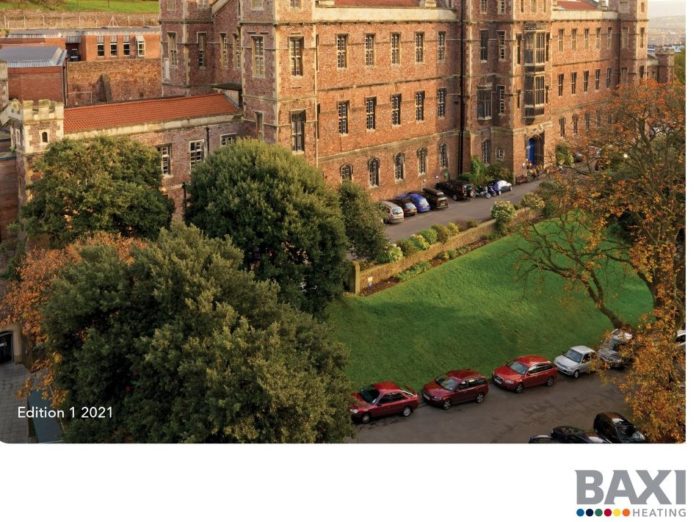 A Baxi Heating white paper has identified urgent need for UK school heating refurbishments "to set buildings on the path to net zero".
Its 'Refurbishment of School Heating Systems' white paper comes on the heels of the UK government's announcement that it will legislate a new target to reduce emissions by 78% by 2035, as part of a new Sixth Carbon Budget.
The urgent need to reduce emissions from heat in UK buildings is particularly pressing in the education sector, Baxi said. With a low rate of new school construction and 65% of school buildings built before 1976, the existing stock was expected to "continue to overshadow the sector for many years to come".
Schools embarking on a heating refurbishment programme often face a range of challenges – from poor insulation to overheating – that make use of some alternative technologies very difficult, it added.
Andy Green, technical director at Baxi Heating, said: "We have numerous years of experience supporting project teams to achieve the best possible results in schools projects. For many schools, switching from ageing non-condensing boilers to low carbon technologies in one leap simply won't be a technically or financially viable option at present.
"However, it's evident that if we are to achieve our emissions reduction target, we must take every possible action now. In schools like these, taking a phased approach to refurbishment will help bring the building up to code and set it on the path to net zero."
The white paper also revealed that 57% of England's schools have faulty boilers or heaters that add an unnecessary financial burden. The Carbon Trust Whole School Approach to Energy Savings report estimates that UK schools could save £60m annually through improved energy management, including upgraded heating and hot water systems – often the most significant energy users in school buildings.
Andy added: "We mustn't neglect the affordable and achievable opportunities to reduce energy costs and emissions. Replacing old heating plant with modern energy-efficient condensing boiler technology, for example, can drive down energy consumption significantly – and will provide an immediate solution for schools that face inadequate heating and hot water provision.
"Adopting a holistic approach to system design and exploring modern technologies and techniques is key to resolving a school's unique heating and hot water requirements. With early engagement between consultants, specifiers, contractors and manufacturers, we can identify the appropriate stages and overcome the typical refurbishment challenges – whether that's listed buildings, budget and space limitations and/or tight project deadlines.
 "Refurbishing school heating systems as soon as possible will put these buildings on the road to the future of heating. That might ultimately mean a shift to heat pumps, smart electric water heating equipment, or hydrogen boilers. Whatever is deemed the appropriate technology of the future, progress will be much easier to achieve if we, as an industry, work together to lay firm foundations now."