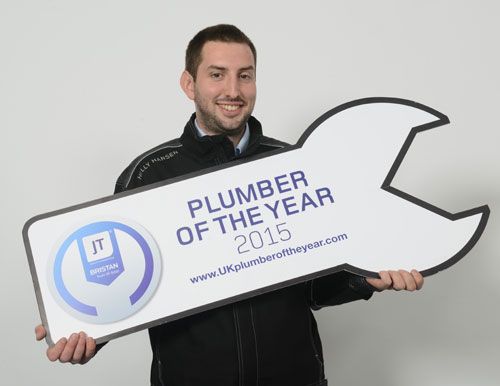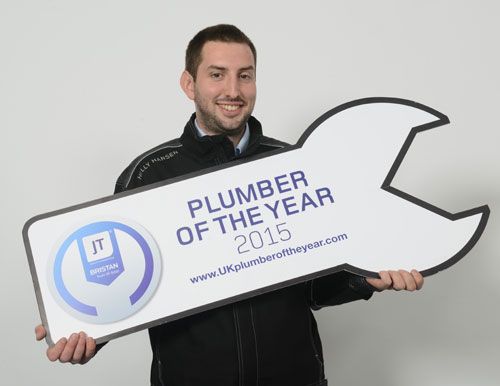 Josh Colbert is the winner of the inaugural UK Plumber of the Year 2015.
Up against four other finalists, Josh, 24, from Huntingdon, Cambridgeshire, impressed the judging panel with his skill-set, passion for the trade, his ambition and forward-thinking.
As well as the honour of becoming the first ever UK Plumber of the Year, Josh takes home £5,000 worth of JT and Bristan products, marketing support on how to maximise the award and support his trade profile/business, a CAT smart-phone, Helly Hanson clothing and a C.K Magma Open Tote.
Launched on World Plumber Day (March 11), the national competition delivered by shower tray manufacturer, JT, and shower manufacturer, Bristan, called on plumbers across the land to enter in a bid to find Britain's best worker.
The award is designed to reward and acknowledge the talents of the UK's finest plumbers and ask entrants to demonstrate their plumbing, service and business skills.
Ten finalists were selected based on their original applications who then embarked on a voting campaign to get as much support as possible to make the final interview stage, with the five plumbers who received the most votes making it through.
Josh was up against Stewart Norris from Boston, David Murray from Edinburgh, Paul Clarke from Billericay and Leigh Hattersley from Stoke-on-Trent, who was presented with a highly commended award.
Josh said: "I'm completely overwhelmed to win, it still hasn't sunk in. When I was selected in the top ten I was shocked, but to get the call saying I had won was unbelievable. The support I have had from my family and friends has been fantastic and I can't wait to tell my customers that I am the 2015 UK Plumber of the Year."
Paul Crossley, managing director of JT, added: "The standard of entries throughout the competition was incredible, the plumbing and heating industry should be proud of the level of skill and talent we have on offer here in the UK."
Craig Rendall, merchant sales director at Bristan, added: "The calibre of entries has been outstanding and we have been overwhelmed by the high standard of work demonstrated by plumbers across the UK. However, there could, of course, only be one winner and Josh stood out from the offset being the perfect example of a truly dedicated professional always seeking to go that extra mile."