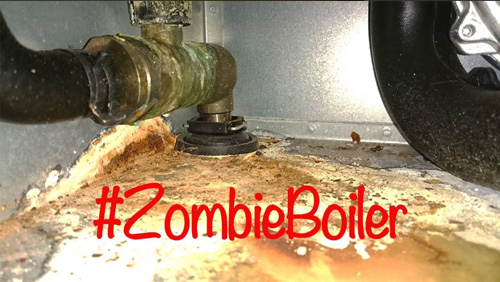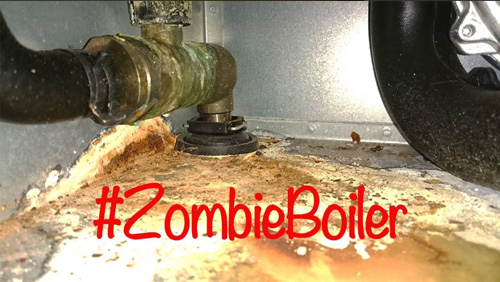 Wolseley Plumb Center has announced London Gas Services as the winner of its 2017 Zombie Boiler competition.
Zombie Boilers were being targeted by the plumbing and heating specialist during October to raise awareness of inefficient boilers and their costs to homeowners, as well as the effects they can have on the environment.
Taking out the warming dead with the most zombie boiler slays, London Gas Services has won four tickets to its very own Zombie Infection experience. Their chosen team will be tasked with exterminating a zombie apocalypse using only instinct and intellect for survival.
On winning the competition, Gary Mellor of London Gas Services, said: "It's great that we've won, we can't wait to take down some real(ish) zombies.
"We come across far too many Zombie Boilers on jobs and think it's really important the public and my customers understand why sometimes it's better to replace rather than repair – ignoring an inefficient boiler will only lead to further problems down the line including costly breakdowns, higher energy bills as well as polluting the atmosphere."
As well as the overall top Zombie Boiler hunter of the year, Drew Styles from Styles Plumbing, recently crowned Plumber of the Year, won the runners-up prize for getting the most retweets of his slays, winning some workwear to ensure he is well equipped for a day's hard work.
Wolseley category director heating and renewables, Richard Harvey, said: "We want to support heating engineers and UK homeowners to get rid of these old and decrepit boilers. While they might look ok from the outside, inefficient boilers emit harmful emissions, burn cash sending bills rocketing, and risk breakdowns which is a big inconvenience with the colder months approaching.
"The subject of inefficient boilers and the threat they pose is being talked about more and more within the industry. To see so many Zombie Boiler entries from installers across the UK is fantastic and we hope to see even more wiped out until they're gone for good."
To enter the competition, installers had to tweet @PlumbcenterUK photos of boiler horrors they put to rest using the #ZombieBoiler hashtag. All entries were added to a top zombie hunter leader board where installers would receive one point for all entries submitted, and a bonus point for any retweets.
Visit: www.plumbpartsmagazine.co.uk/zombieboiler to see all the entries