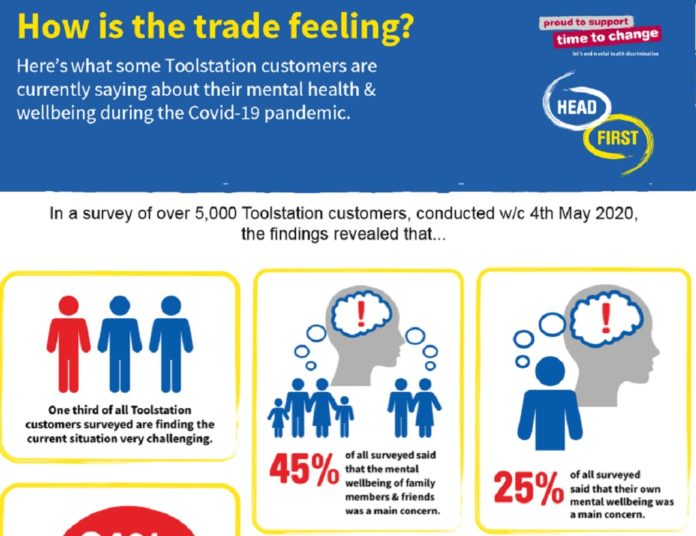 Toolstation has launched an initiative to help provide support to the mental health and wellbeing needs of those working in the trade.
Working together with the mental health anti-stigma campaign, Time to Change, 'Head First' will encourage the trade to be more open in talking about their own mental health and supportive of others who may be struggling, particularly during the COVID-19 pandemic.
The launch coincides with Mental Health Awareness Week (18-24 May) and comes after a survey of over 5,000 Toolstation customers found that one third are finding the current situation very challenging, with 45% of all respondents saying that the mental wellbeing of family members and friends was their main challenge, concern or worry at this time, and 25% stating that they were most concerned about their own mental wellbeing.
James MacKenzie, managing director at Toolstation said the 'Head First' initiative is needed now more than ever.
He said: "Working in the trade can be both physically and mentally demanding. Whilst we all talk about physical aches and pains, it's not so easy to tell someone you're feeling sad, depressed, anxious, over-stressed or just out of sorts. Our customer survey has highlighted the damaging impact COVID-19 is having on the livelihood of tradespeople, with 61% reporting the work challenges they face and almost one third sharing the concern that they will go out of business.
"Against this backdrop, being aware and talking openly and without any shame or embarrassment about how you and others are feeling mentally is more important than ever – as is having quick and easy access to information and organisations that can provide support."
The Toolstation Head First campaign is launching with a dedicated area on the Toolstation website that contains easy to find information and advice from Time to Change.
Jo Loughran, director at Time to Change, said: "Now, more than ever, we need to be able to reach out and seek support from our colleagues and friends. We're all adapting to a new way of life and a new way working, which comes with its own challenges, but that doesn't mean we can't be supportive of each other when it comes to mental health.
"By working with Toolstation, we hope to open up the conversation about mental health among people in the trade who might be reluctant to chat freely about their emotions or feelings. Simply providing people with the confidence to support their friends or colleagues has the power to change lives, and it doesn't need to be difficult or scary."